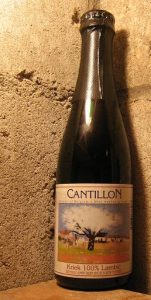 I shared with one to the shock and dismay of my guests two years ago but I've grown up so much since then I thought I would revisit it to see what I thought. Back then I use the word poo which seemed to tick off a crank. Apparently some who write "barnyard" have never been in a barnyard. Let's see how this goes today when it's just me and the glass and a sticker on top saying I spent nine bucks for the 375 ml of the 2006 bottling.
Pop. There it is. Gravenstein apple and beef cattle holding structure. You will have to excuse me as I grew up in the Annapolis Valley of Nova Scotia and actually recognize the scents. Yet they are not repulsive. Not at all. Rather they are evocative this time. It looks lovely – pouring a clear deep blush – the colour of rosé wine, with a fleeting white foam that disappears after a few seconds. In the mouth there is less harshness than I recall even with the strident acidity. I must be weakening.
In the first sip, there is that green apple acid, a general fruit berry thing that I can associate with cherry if I think about the idea of a mouthful of under ripe pin cherries grown on the unrelenting North Atlantic brushland. There is also a little cheesy, yogurty rich funky tang that needles at you a bit but is overshadowed by the snap of the sour. More than anything it reminds me of the austere dryness of the wine I made with my own vines and my own hands back in 2003. As I get into it, though, I get the sweet fresh cherry layer. It opens up ever so grudgingly. My teeth feel slightly stripped of enamel but with a fruit note in the mix of dissolving calcium.
What can I say? If it were not for the specific acidity that mimics one under ripe variety of Maritime Canadian apple that happened to grow where I grew, I would not know what to make of this stuff. A theory of fruit preservation put in stark action? BAers still approve but I am still disappointed with my understanding of why I need that much acid in my body.