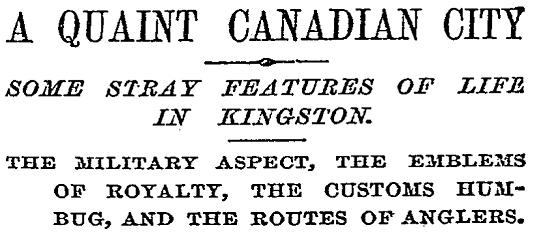 I had reason to mine the archives of The New York Times today – for entirely proper purposes, I can assure you – but it was quite a moment, that moment when I knew in my small way that I was living out the life Pattinsonian, beery archive sleuth. What I came upon today was an 1890s travel piece with beer references worked in for good measure, the sort of thing our pal Evan Rail of Beer Culture fame, provides for The New York Times today, 118 years later. This is the key beer-related bit.
…The similarity to the English extends quite noticeably to minor matters, even to eating and drinking. Pipes rather than cigars are smoked in the streets and public places. English relishes and sauces in great abundance are displayed upon the dining tables. Lager beer is wanting almost absolutely. I remember in all my travels, extending through hundreds of miles in Ontario, beginning at this place, to have seen the sign "lager beer" displayed only once. Light wines are rarely called for. Strong ales like Bass's and stouts like Guinness's abound. Coffee is rarely served and when ordered is found to be a mockery. Tea is, next to mineral waters, the stable temperance drink at table…
That is an interesting bit of social observation. The whole piece with its August 16 1890 dateline is interesting and, if you have any idea of Kingston and its rare preservation of a huge part of its Victorian architecture, one that you can immediately place in the streets about the downtown. Except there's lager beer here now. A little too much, frankly.