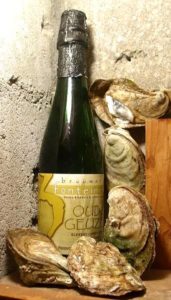 I was out hunting for some Caribbean stout to go with the PEI oysters I picked up and the incredibly jambi Mike Mundell's shop this afternoon. Without success. What to do?
I love oysters. I used to live in view of the Gulf of St. Lawrence on PEI's north shore and heading over to Carr's at Stanley Bridge for a half dozen Malpeques to suck back with my home brew. Despite the trade's odd view of what makes for a benefit, the oysters know not what is done in their name. Quietly in their rocky shells they ignore such things, preferring to be pretty damn tasty and – at a buck and change – a great value.
So, instead of a strong sweet stout, I thought I would try them with a geuze, in the case a half bottle of Drie Fontienen's Oude Gueze, the beer I had last New Year's Eve. This one was bottled back on Friday, February 1, 2008 when I was having an Old Guardian for the twelfth edition of The Session. Let's see what happens in mid-summer two and a half years later..
Wow. That is quite a combination. The barnyard funk of the geuze hits the oyster's wharfy skank head on in your mouth. One of my more intense taste experiences when I think of it – which is all I can do given it is happening in my mouth right now. All that is missing is an overly aged chunk of blue cheese to make this as overwhelming an experience as it could be. But the aftertaste is creamy, like two waves counteracting each other leading to calm. The oyster brings out the apple notes and places the acidity in context. I am happily reaching for the next meaty oyster.
Success. Each assisted through the difficulties the other can pose. A vital combination.