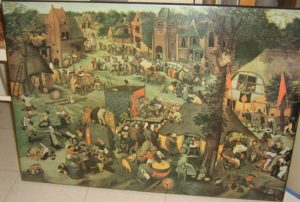 I knew this. I think I knew this anyway:
"This process is much like how you would do in a fourth-grade germination science project, where the grains would be soaked in water for about 24 hours, drained and then laid between sheets of cloth until they sprouted," said Amanda Mummert, an anthropology graduate student helping Armelagos with his research. After germination, the grains were dried and then milled into a flour used to make bread. Streptomyces bacteria most likely entered the beer-making process either during the storage or drying of the grain or when the bread dough was left to rise. Nubian brewers would take the dough and bake it until it developed a tough crust, but retained an almost raw center. The bread was broken into a vat containing tea made from the unmilled grains. The mixture was then fermented, turning it into beer. The final product didn't look much like the pint of amber you sip at your local watering hole. "When we talk about this ancient Egyptian beer, we're not talking about Pabst Blue Ribbon," Armelagos said. "What we're talking about is a kind of cereal gruel."
I knew that. Not that bacteria stuff. No, not that. Forget all that medical properties stuff. Look at that word "gruel"! I think there was reference to the thickness of 1500s gruel beer back in Martyn's Beer: The Story of The Pint which I am surprised to now read that I blogged about seven and a half years ago. There is stuff in Hornsey about beer as gruel as well. Boozy porridge. So, how is it when we are presented with these supposedly authentic ancient beers, well, they pours like water or least an IPA?
More to the point, don't you want to try some breakfast gruel beer? Couldn't we make it like it was enjoyed back then? Not the contemporary southern African version for 12 to 20 but the big vat whole dang community serving sized pot o' Quaker Oats meets Budweiser. If we look again at "Village Kermis With Theater and Procession" by Pieter Bruegel the Younger (discussed in in 2007 in terms of the pub game in the lower left) we see in the lower center the making of a big mess of something being sucked back by the crowd, right across the street from the joint I'd guess was the tavern. Have a look at the painting Bruegel maybe ripped off and the detail is even better. I am not suggesting we need to get all deep about this stuff but does anyone do a village kermis with gruel booze anymore – other than, say, in rural Romanian where I am pretty sure I will never find myself? Would people folk to such a legitimate recreation as much as for another thinly veiled faux stab at brand buffing? Apparently the children's games scholars are already at it.