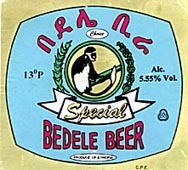 When I was growing up, Ethiopia was one of those nations with the hallmark of being incessantly near collapse. Civil war unending. The famine. Now there is beer:
The Beemnet bar is one of those places in Addis Ababa which attracts Ethiopians of all ages. Increasingly locals are going here for breakfast, lunch, dinner and drinks – a sign of the country's increasing purchasing power. On Friday and Saturday nights, the terrace and bar is packed with people drinking beer and trying out their new dance moves before heading to a club after midnight. Beer is becoming increasingly popular among the growing Ethiopian middle class. In fact beer consumption in Ethiopia – Africa's second-most populous country, is expected to grow by about 15 percent every year for the next five years. According to a report carried out last year by Access Capital, an Addis Ababa-based research group, this growth in consumption is very much in line with Ethiopian population levels and economic growth rates.
As in the Mid-east, in Sri Lanka and in the southern Sudan, this rise in beer production and consumption in Ethiopia is a hallmark of peace. Even as – or is it because – they seem to prefer the "jumbo" size glass.
A little oddly, the US Embassy did a study of the Ethiopian beer market in 1998 at the time the breweries were denationalized. It notes that it was the Czechs and Slovak Velvet Revolutionaries back in 1993 who created the Bedele brewery Heineken recently bought, outbidding Carlsberg. You can allegedly find the beer in Canada, a nation not known for its fondness of monkey gibbon… or lemur… well, it's very likely a Coquerel Sifaka branded beer. [Update: unless the connection is about Zaboomafoo!]