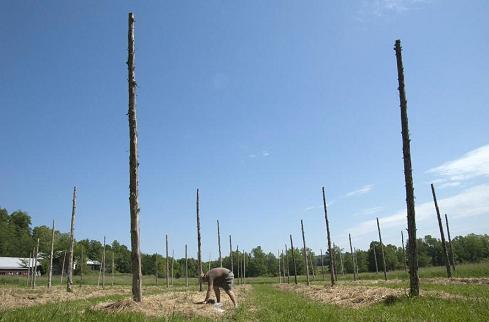 My local public radio station, North Country Public Radio, had a great story today as part of it's series on Faming Under 40 that runs all this week. Today's installment is called "New Direction for an Old Farm" and described how the next generation on a 210 year family mixed farm is trying out hops:
…last year Joe's youngest son, Ian, approached him with an idea to grow hops in the lower field. Ian is 26 years old and his friend, Fletcher Bach, 23, had gotten him interested in brewing beer. They wanted to try growing hops – which flavors and preserves beer – instead of buying it. "We started with sixteen plants," Ian Birkett said. "We were like, these are growing really well here. So we kind of put our heads together, wrote a business plan, and now we are on year two and we have 850 plants."
The operation is called Square Nail Hops Farm. It has a Facebook page. They are getting in touch with the right advancement programs. They are getting involved with academic research. And they are selling to craft brewers. A great story.