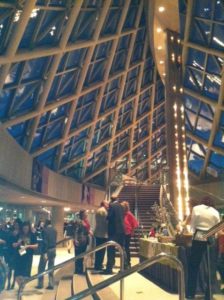 What a pleasant Wednesday. I ate. I sipped. I asked myself a lot about how people in downtown Toronto spend their Wednesday evenings. I did not think I got swept away in pairing mania but, and it is a subtle but so bear with me, there were many wonderful combinations to be found.
For example, Beau's Mates with Dates and the cheese made from water buffalo milk from Montefort Dairy was a really interesting side by side but it was not one of the proposed pairings on offer. Similarly, a deftly tucked away bottle of Ten Bitter Years from Black Oak went very well with the dessert crepe being given away in a booth but that was not the beer on offer because the crepe had Ontario black walnuts. The chef and I talked about the weirdness of the texture of the crepe and nuts with a very bombish IPA. But we agreed that there was a twigginess in the hops of the beer that worked with the walnuts which tasted like you face would after an hour of chainsawing hardwood.
So did I pair? Probably. Was the event a good one. It really was. I am going to just post this now but add some more thoughts as my day's class on contract drafting proceeds. Unless it is riveting. Which it could be. You never know.