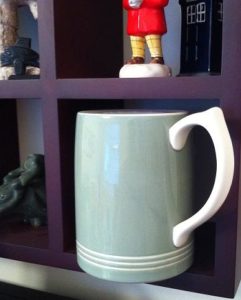 But I found this which will do for now.
In George Orwell's 1949 essay The Moon Under Water – mentioned here, here and here – we are taken perhaps though the looking glass to an idyllic perfect pub of post-war Britain. It is a gorgeous physical essay that sets out the elements of Orwell's dream establishment including even the mugs:
The special pleasure of this lunch is that you can have draught stout with it. I doubt whether as many as 10 per cent of London pubs serve draught stout, but the Moon Under Water is one of them. It is a soft, creamy sort of stout, and it goes better in a pewter pot. They are particular about their drinking vessels at the Moon Under Water, and never, for example, make the mistake of serving a pint of beer in a handleless glass. Apart from glass and pewter mugs, they have some of those pleasant strawberry-pink china ones which are now seldom seen in London. China mugs went out about 30 years ago, because most people like their drink to be transparent, but in my opinion beer tastes better out of china.
There is also a small surprise of a garden… and stamps. I have been looking for a strawberry-pink china mug for a while now but have made do with this in the interim. It is a Wedgewood 1940s sage green tankard designed by Keith Murray. I got it on eBay for about $53 Canadian which is a lot but it is also not as I could likely put it on eBay tomorrow and get about $53 Canadian… which is what I tell people about my soccer jersey collection of about eight years ago that sits in boxes waiting for another five for the teens to discover it. I like the way the handle looks a bit like antler. Not sure what beer I will have from it. Looks nice where it is.