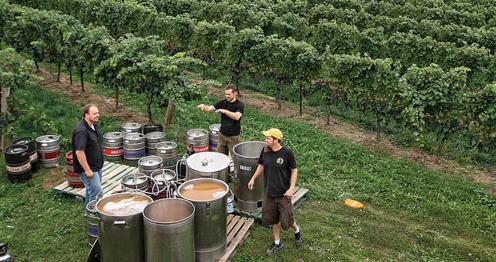 Like most things, Canadians are about half a decade behind so it is no surprise that a group of Ontario brewers have decided to take a kick at wild beer or that some in the Canadian media reacted to the invitation as if they had no idea what was going on in the wider world of good beer. Which is nothing against those directly involved. It's a great idea. Hope it is yummy and not sold for twenty bucks a glass. Experiment on your own dime, brewers.
Wild indigenous wine yeasts are one of the current things. Like Citra hops. Craze that might be a fad. Here today and gone tomorrow. Yet the yeast is itself. From the photo up top from the Macleans magazine article, you can see the brewing is done in a vineyard, an agricultural monoculture. But is it a monoculture of yeast even if the plants are all clones? Apparently not. We learn that our mutual friend Saccharomyces cerevisiae is certainly on the grapes but only on about 1 in 1,000 berries. What else is in there? The beer will tell. Could be tasty. Hopefully.
PS: get a coolship, wouldja? Wild inoculation via narrow topped vessels might be less than optimum if the history of beer before a hundred or so years ago is anything to go by.