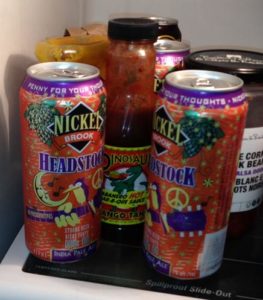 I suppose I should write from time to time about what is actually in my fridge. I suppose I should also check out what is in that brown paper bag back there.
Nickel Brook's Headstock IPA has become my "go to" beer which, to be fair, is because that can of Narragansett Porter back there is the only one I have and maybe one of a handful in Canada. Why do I like this so much? Well, it is big but not insane at 7% but has as much wallop as any number of stronger DIPAs I have had from the states. Then you have to simply like the price, $2.65 for a 473 ml can. No, I am not able to explain how it is we have 473 ml cans and not 500 ml cans but it is what it is. I can get almost three litres for just over fifteen bucks and it is the backbone of the weekend. It pours a slightly less than clear orange amber with a rich foamy white head. The aroma is pungent Seville marmalade. Sweet bitterness in the mouth. More orange flavours including bitter pith, pink grapefruit juice, prickly spicy green weedy hop, white pepper burn in the finish all in a satisfyingly rich even thick brew.
BAer respect. I like it way more than their average suggests.