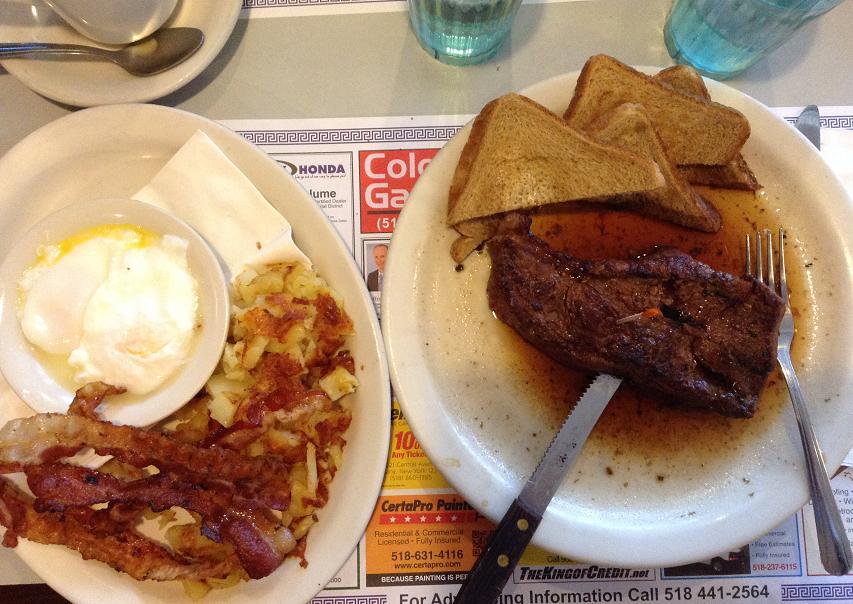 I finally figured out how to pronounce the name of the capital city of New York state. I knew "Ahhhlbany" was wrong but could not figure out "Awlbany" until I heard it was called "Smallbany" too. So it rhymes with small. There you go. We were there for an Albany Ale Project event at the Albany Institute of History and Art. It was a great event which I will likely write about over at the beer blog but wanted to note a few things for now about the travel aspects of the trip.
First, as illustrated, we had a great brunch at the Gateway Diner handy to the simply majestic Oliver's Beverage. The place was big for a diner but the spaces were broken up so that you had a sense in each part of it that you were in a busy family diner. Service was fast and friendly. The coffee was good. I like having New York strip steak while in the Empire State. This was my first one with eggs. Poached. One must be careful these days.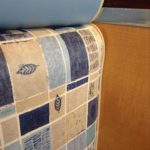 The diner was not that far from where we were staying, the CrestHill Suites on outer Washington near the State Campus. We picked this up for 91 bucks on Hotwire. Clean. Generous room with a real kitchen that defied the use of nook. Armchair and sofa. Quite even if near the highway. We had room 312. We will book again. Best thing was the laundry basket in the bathroom. A $1.79 item that meant we did not have to leave damp used towels on the floor and, presumably, allowed the staff to clean up with a little more dignity than getting down on all fours to recover the last facecloth from under the sink. A simple smart thing that earned our respect.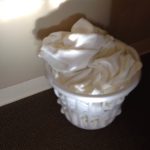 Last, after the event three couples went for a Mexican dinner before heading for beers at the Lionheart Pub closer to downtown. The restaurant, El Mariachi, sits across the street from the Institute. Its one of those spots you go to in the States that reminds you that Canadians thing BBQ is a wiener on the hibachi. I won't go into much detail except that supper for six was only a bit over $80 and that I had something that really rearranged my thoughts about Mexican food – chicken with pumpkin seed sauce. Fabulous. I am now going to make pumpkin seed sauce and pour it over everything. Generous portions. Great service and cozy small spaces.
So, as you can see, I have thought about something I want to write about in this space other than gardening. I mean I could write how the fence blew down on Friday but… really?