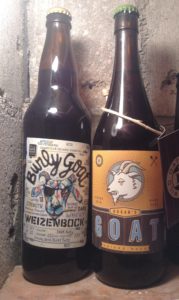 Is it just me or does the expression on Beau's Hogan's Goat bear a slight resemblance to the brewery's co-founder Tim Beauchesne? A sample arrived a few days ago and, while I am pretty sure I have had the beer before, "spiced" beer of any sort is not something I hunt out. Same with weizenbocks like the sample of Burly Goat sent by British Columbia's Granville Island Brewing. Yet, given how often I am wrong, I really should check in on my prejudices. Besides, Tim-Goat is giving me a mean death stare from that label. Better do something.
Hogan's Goat pours a bright caramel under a slightly orange cream head. The almond malty aroma leans slightly to gingersnap. A very pleasant first foamy gulp: rich nutty malt with a late showing of herbal hops. Sweet with nods in the malt to apple, raisin and even old fashioned brandy butter sauce. What spicing there is gets neatly placed. The overall effect is a bit barley candy, a bit herbal lozenge and more than that in beer. You particularly notice the orange peel when you burp. At 6.9%, strong but not over the top. BAers have the love.
Burly Goat is a beer in the style of Aventinus and a respectable homage. It has that spiced weizen yeast in common with its mentor and displays how wheat, when stronger, starts to move from simply grassiness to something itself rustic and spiced in the way that rye is. It has that beefy gravel hue that would be a turn off in any other sort of beer. Green grass, marigold, pumpernickel, a bit of almond in a drying brew. Herbal leathery aromas. You could soak a pork shoulder in this very nicely. Just one rating by a happy BAer.
What did I learn? I was reminded that I like beers like this and that domestic craft can make them with verve. Or is it panache?