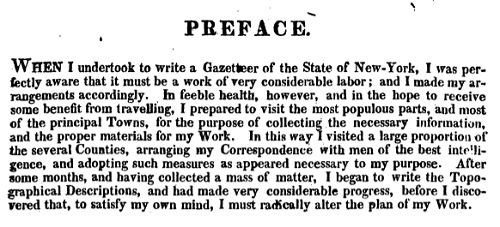 It is not often you get to see such ripping drama in the very first paragraph of a gazetteer of two hundred years ago but there it is. He had to radically alter the plan of his work. Wow. What did he mean by this? Well, he wrote letter to people. See, he had planned to travel around and then got tired of it. So he used letters to gather information instead. Amazing!
Anyway, the really neat stuff in the Spafford Gazetteer are the stats that feed the narrative of that point in Albany ale story and also line up with later Gazetteers to sketch a greater picture of change over time. But then you find these great passages which illuminate the author's own observations and perhaps prejudices. Like this on page 36:
The increasing use of ardent spirits, calls for consideration of these matters but to examine the characteristic diet of our varied population, would be deemed invidious. If breweries of malt-liquors were multiplied over the country with the rapidity of small distilleries of grain and fruit-spirits, the increase might prove a national blessing instead of a curse. I do not know that intemperance is more prevalent in this, than in the other American states ; but I know that social meetings depend too much on the bottle for their convivial pleasures; and that hilarity is dearly purchased, when obtained from this source.
You know, if someone had said that I ought to consider how dearly I was purchasing hilarity back in my twenties maybe things would have turned out differently. Here embarking on my sixth decade, however, it is more obvious and especially obvious now given all this history, research and writing. There is one thing pretty clear that jumps out when one considers eastern North America circa 1620 to 1820 and that is that temperance was not only inevitable but a pretty good thing. Temperance won and we are it. Just as we have to put up with people who say beer is greater than wine we all know the wag who will use phrases like neo-prohibition, folks talking down temperance. Don't believe it. All that hilarity was in fact dearly purchased and sure needed someone to turn on the lights, lift the needle off the LP and let them know the party was over. Or at least that sort of party was.
Just have a look at what Horatio found out about Jefferson Co., NY. That is the county nearest me as I sit across on the royalist side of the river. At pages 80 to 81 he says it was divided off the neighbouring county in just 1805 and has a population of 15,136. There are two breweries there already as well as a whopping sixteen distilleries. Large ashery operations are selling large qualities of pot and pearl ash likely into the Montreal market, bringing "much money into the country." Boom times even with the War of 1812 begun.
At pages 50 and 51 there is a handy table that has masses of data. It states that the price of beer was 17 cents a gallon while the local whiskey was 80 cents a gallon. The two breweries produced a total of 25600 gallons or 31 gallon barrels or around 826 barrels. The sixteen distillers made 32000 gallons of the hard stuff. "Fruit spirits"? Maybe apple cider hootch? Maybe it was too soon for that many apple trees to be in place. There are cloth mills about which Spafford says quite extraordinarily:
The automaton habits, and the immoral tendencies of these establishments, will be better understood in this country 50 years hence.
The grim satanic mills of Watertown, NY? Carding machines and fulling mills. We learn at page 323 that the city was first settled in 1798 and that five of the 16 distilleries are there along with both breweries. For 1849 souls with almost 14 gallons of beer each between them. Plus the rot gut. Ah, the pre-temperance world of Watertown. Spafford what all very Old Testament prophet raging in the storm about these things… except without the religiosity in his concerns as we see again at pages 36 and 37:
The vast number of inns, taverns, and groceries, licensed to retail strong drink, is a growing evil, felt most in cities, but extends in some degree to every borough, village, town, and settlement in the state. By an actual enumeration in 1811, of those in the city of New-York, there were 1303 groceries, and 160 taverns. A small revenue, is collected from licenses, but it is the moral duty of the Legislature to attempt a remedy for the growing evils of intemperance, the source of numerous ills. It is presumed that Albany has as large a proportion of these houses as New-York ; and there is hardly a street, alley, or lane, where a lad may not get drunk for a few cents, and be thanked for his custom, without any questions how he came by his money, or perhaps any care. Parents and guardians face the evils of this system most sensibly, and first perceive the deep wounds thus inflicted on the public morals. The inn, is the traveller's home, and groceries are also convenient, if duly restricted in number, and well regulated. But the multitudes of mere grog-shops serve only to encourage idleness, dissipation, intemperance, and as the prolific nurseries of vice.
OK, maybe a little moralizing but he likely had a very good point. Frontier hellholes and urban booze shacks abounding. That's New York State a couple of hundred years ago. You know, unlike a lot of Gazetteers, this one hardly comes off as being commissioned by any chambers of commerce. Which makes it – as well as the inevitable reflections on the two hundred years of progress since – quite pleasant reading even if the implications are grim.