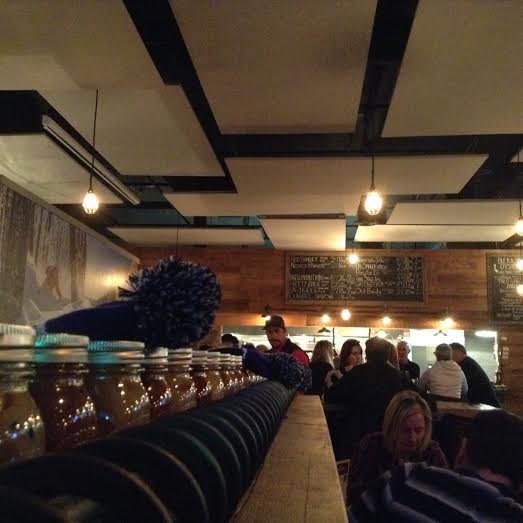 I had one of those happy sad events over the weekend, a remembrance of someone two generations older than me, forty-eight years older to be exact. I won't get into details but suffice it to say that anyone who ensured there was a good beer in the fridge was an ally as much as anything. The weekend was moderation itself with plenty of time spent listening to stories of generations past as well as seeing who might make the funniest strangest face, me or a seven year old. But there were stops and there were meals. So – as a service – I offer a few thoughts.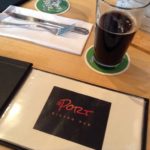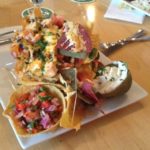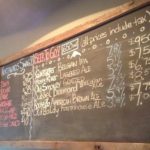 I will mention the last first. On the road home, we stayed off the main highways given the snow and went with the 1930s era ones, now secondary roads. Which brought us into the towns on the north shore of Lake Ontario. In Trenton, we came across Port Bistro Pub. A burger for me which I might have enjoyed more had the other plates not looked better. The picture above in the middle does not do justice to the architectural nachos consumed by the boy. The salsa was light and lime while the cabbage cole slaw was cut with shredded green apple. You wanted that intel, correct? I mean one needs to project to all parts of the theatre, no? Fine. I admit it. The reason for that all is as background to me now mentioning the one glass of milk stout I had which was made by Gateway Brewing, also of Trenton. It was good. I shall hunt it out again. I took no notes so that is about it. Sorry. Did I mention I was six hours into a none hour snowy drive? Worth a visit.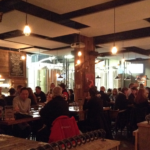 On the way up, I was more prepared. Or at least I aimed and when I found Northwinds Brewhouse, I had… a burger. But as it was a burger eaten on a Friday unaware of the one I order on the next Sunday. I shouldn't have had two. But I should have had this one. I had a gratzer as well as a mild. I did make the mental note that it was really grodziskie. But then I noted that these were two of the three beers under 4%. And each passed a critical test, the favour of the one who doesn't really like beer. I took away the 3.8% farmhouse ale, too. That's the bottle shop's chalk board up there. All extremely well made and all the beers entirely avoiding the trend of adjunct craft. No phony baloney fruit sauces in the saison, no silly "vanilla note from a vanilla note giving" bourbon barrel aging. Just that sort of well managed expert brewing that occurs when the basic ingredients meet an intelligent ambitious brewer. I like. Oh, and the chance of a fried egg on your chips. That helps, too.
What did the two places have in common. The spaces were clean, contemporary and well suited for the offerings. I particularly liked how Northwinds employed some clever sound dampening panels up in the rafters. Made what might otherwise have been a bit of an echo laden industrial space into a very strong candidate for my favourite Ontario beer house. Port Bistro? It was the wall of glass facing the river. Another faces the road. So tidy I might have felt awkward if that was an emotion I was capable of feeling.