See that there? That's a bit of a winery with a brewery popping up rapidly behind it. I raced through the east end of nearby Prince Edward County again today as I was getting itchy feet on day four of this week off. Itchy feet from reading all of Stonch's posts about a Londoner's country hiking lifestyle, wandering from pub to pub and glass to glass. Well, that sort of thing doesn't happen much around here but, as he was giving me the gears over this and that on the chat app yesterday, I decided to do the next best thing and head to our nearest neighbouring grape growing region. And I found a new brewery in the works or at least a roof four walls and a newly poured concrete floor for County Road Beer Co., an offshoot of the makers of pretty grand sparkling wines, Hinterland. More in a bit about that but first a little history.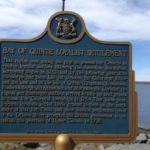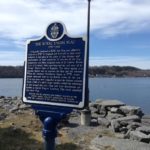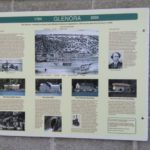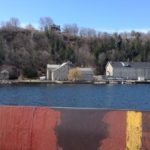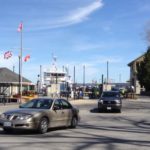 As I mentioned the other day and Craig set out in more detail in a press release today, in one month's time there is a recreation of the sorts of beer that may have been familiar to combatants on both sides of the American Revolution on the central New York Frontier. And I have one job – get a flag. As you can see from the historic plaques, they take this flag thing serious in Loyalist-settled country. Just as the other side did after the war and the re-settlements, they had to recreate their lives anew. Farms were cut out of forests. Mills were built to service villages with names of the towns, like Cherry Valley, from which their ancestors fled in the 1770s and '80s. I took that photo of the sign standing by the side of Schoharie Road. These days the flag is everywhere. A bit surprising that it is. When I went into a hardware store and asked if they had the old version of the Union Flag, they said no. Then the old guy at the counter added "we do have the Loyalist flag" which, when they checked, was the old version of the Union Flag. Within seven seconds of my explanation – about when I mentioned 1606 – eyes were glazed and mouths even smirked. I shut up and took the flag to the check out. "That will be $75." Not a chance. I put it back and walked away.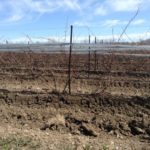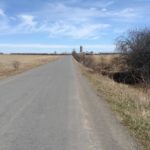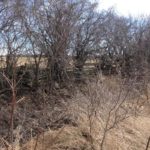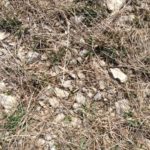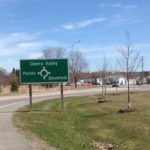 I was actually more interested in the fruit of the lands than the damn flag anyway. As Jordan described in one of his bits in Ontario Beer, Prince Edward County was a hot bed of barley sales to nearby northern New York from the US Civil War until a tariff was slapped on the trade in the 1890s. Be sure not to say good things about President McKinley next time you visit. Anyway, the fields are all there now diversified into hay, corn, soybean as well as more and more grape vines. I got out of the car and onto the land and you could see why. Amongst the old cedar rail fences, the soil in the fields was rocky as anything. Chunks and sherds of limestone everywhere, just the sort of thing grapes love.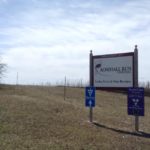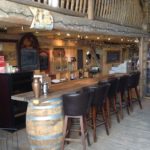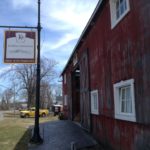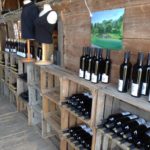 After first doing a gravel doughnut in the parking lot of Barley Days to read a sign that said the retail shop was shut, I aimed the old van at the Greer Road all the way over at the west side of the County. I picked up a rose, Riesling and Bordeaux red blend at Rosehall Run as well as some Black River cheese curd, one of the greatest things ever to come out of a cow. Across the road and about 500 yards to the east, I stopped at Norman Hardie for another Riesling and a Pinot Noir. I talked with Johannes Braun, the winery's operations manager, for 20 minutes about the season, his love of beer and how he makes 100 loaves of bread most Saturdays on top of everything else it does. Hit wineries in April on a Thursday and you get to chat. And he mentioned that Hinterland was setting up a brewery, told me to stop in.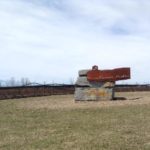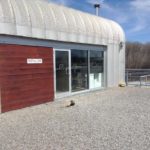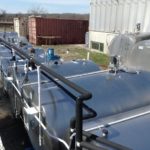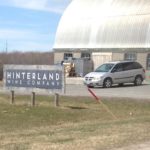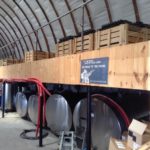 Next, I headed to Karlo Estates where I was again the only customer in view. Bought another Riesling as well as another Bordeaux red blend. The very helpful staff person in the re-purposed barn mentioned that Hinterland was setting up a brewery, told me to stop in. So, I thought, I better go to Hinterland which I now understood was setting up a brewery. When I go there it was a crowd of one at the tasting room and I had a couple of short sips of their bubble before buying a couple of versions. As I was about to go, a guy walks in and I mention something about plans for a brewery. Mark Andrewsky stuck out his hand and we talked for half an hour about what was going to be brewed as a guy worked on the concrete floor of the new building next to the re-purposed old barn. Local, local, local. The family behind the winery had connections to grain farmers, there was a hop farm down the road – Fronterra Farm – and a new maltster coming on line an hour's drive north. Stan would be pleased. Like with MacKinnon Brothers of the Loyalists of Bath and Church-Key farther north, one county over to the east, this is arguably looking a bit like beer with terrior. Mark mentioned maybe a 4% saison and how he had an excellent chance of laying his hands on a barrel or two for some aging experiments. Before heading away, I stopped at Closson Chase for a couple more Pinot Noirs. It's also just around the corner.
The curd was gone by then. Time to head back to the ferry and then on home. An hour each way. Unless you get to the ferry just as its pulling out like I did. Twice. I try to make it at least once a year but with the promise of beer and now 45 wineries it'll likely be sooner. And if they figure out how to build a hotel or even a decent motel or two around there it might even not be a day trip. The flag? I am checking the internet.