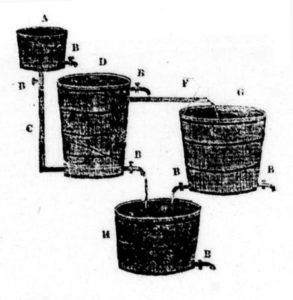 The trouble with finding an old text in isolation like the one I wrote about yesterday is establishing some context. Without it, you are at the whim of the person's claim to fame as opposed to his or her place. It's as true today as it was in 1815 when Joseph Coppinger published his book on brewing. The context is totally dissimilar. Right now we are still in the era when folk can assert craft beer expertise, isolated from critical assessment due to the flux. We have to take comfort and grounding in the knowledge that few are. In the years leading up to 1815, America was similarly in a time uncertainty. The British were not yet allies again and the lands beyond the east coast's highlands were not secured. Drifters abounded. I was thinking about this when I was thinking today about Coppinger. How the heck do I know he didn't make up all that in his book? How can we establish he is reliable? So, I looked to see what I could find out about him. Fortunately, he liked to write letters to the famous and left a bit of a trail:
1800: claims in his 1810 letter to President Madison that, prior to emigrating from Ireland to the US, he published a paper in the reports of the Bath and West of England Society on an improved method of the drying of malt.
1802: Coppinger writes two letters to President Thomas Jefferson. He wrote from New York on the subject of naturalization and the need for him to become a citizen to patent an invention. He is an Irish Catholic recently arrived in the New World;
1802-04: Coppinger appears in Pittsburgh on the frontier partnering in a brewery operation located in and even made out of the former Fort Pitt known as Point Brewery;
1806: Coppinger enters into partnership to establish a brewery in Jessamine County, Kentucky. It never comes into operation and a law suit is begun. The dispute is settled through the intervention of the Rev. Stephen Theodore Badin, the first Roman Catholic priest ordained in the United States;
1807: Coppinger wrote from St. Louis a letter to Benjamin Rush, Revolutionary leader. Rush is a pre-Revolutionary anti-slavery activist and a medical doctor. The letter is not about beer so much as a scheme to use public resources to help raise employment levels;
1810: Coppinger wrote to President James Madison describing a list of inventions and also proposes the establishment of a national brewery at Washington. His inventions include an improved threshing machine and a better method of distilling. He gives his address as No 6, Cheapside Street, New York. Says he has been in the brewing trade for twenty years;
1813: An advertisement for Coppinger's book is published in a Philadelphia newspaper, the Aurora General Advertiser; and
1815: Coppinger writes to former President Thomas Jefferson. He gives his address as 198 Duane St., New York. Jefferson wrote back a couple of week later quite interested in Coppinger's ideas, noting "in my family brewing I have used wheat as we do not raise barley".
1815: Coppinger's publishers, Van Winkle and Wiley of New York, are quite respectable and at the leading edge of the first wave of homegrown American literature. In this same year they publish An Introductory Discourse delivered before the Literary and Philosophical Society of New York, on the fourth of May, 1814 by De Witt Clinton, then Mayor of New York, later state Governor. It is a treatise on the improvement of society.
A brief biography of Coppinger appears in the footnotes to this letter to Jefferson. In his later years he writes two more books: 1817's Catholic Doctrines and Catholic Principles Explainedand in 1819 On the Construction of Flat Roofed Buildings, Whether of Stone, Brick, or Wood, and the Mode of Rendering Them Fire Proof. He passes away around 1825 after 23 years in the young United States of America. He looks good if a wee bit intense. But, then again, he is a participant in the making of the country, making the world anew. Does this mean he is to be trusted in his description of how to make Dorchester Ale? Not at all. But he has a very good chance of being trustworthy with a bit more digging.