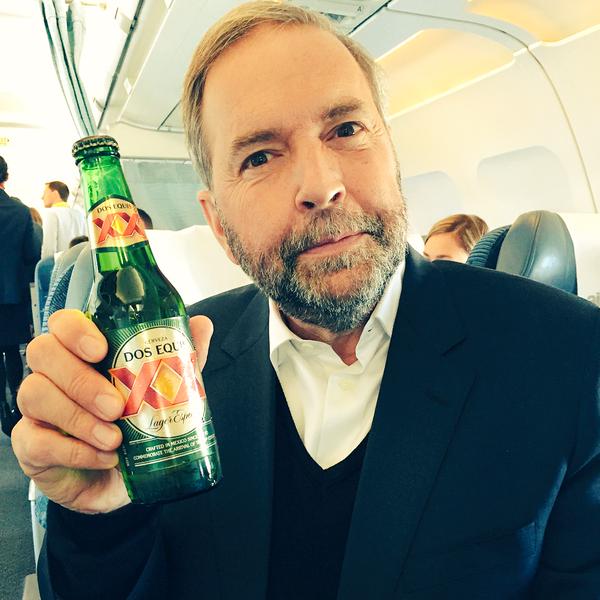 UPDATE TO THE UPDATE!! #TeamPoliPour2015 is coming together very nicely. We have received another link via Twitter to a French-Canadian blog post from 4 September which includes photos of both Harper and Trudeau with beer. Must analyze more closely for evidence of actual pouring as opposed to serving and hoisting. More updates as they come in….
UPDATE!! – NDP leader Mulcair seen today in PEI at a microbrewery to announce tax policy. [Inside scoop: I used to live about 300 yards from the parents of named NDP candidate Herb Dickieson (Egmont) on the road just north of New Glasgow, PEI. Lovely people.] Got a tweet from @salut_galarneau at 7:32 EST to let me know. Money shot. You may have had to wait otherwise for the morning papers…
Earlier: Remember last Canadian federal election? The leader of Her Majesty's Loyal Opposition was caught on camera proudly pouring a beer. And our Prime Minister was seen awkwardly pouring a beer on his way to his first majority government. Our conservatives like beer. Our centre left appear to want to expand access to beer – though their generosity is somewhat limited. Generally speaking beer is generally not a matter of general public debate. We like beer. It's like hockey without the ice to us.
So, what has gone wrong so far this time around? Why have I not been bombarded with candidates in tavern scenes or folks who just want to be seen to be Johnny Average Canuck uncomfortably holding a case of some beer upside down? Don't get me wrong. Normal folk from average backgrounds who have made good have been the norm as far as our national leadership goes. And that sort of dull is frankly better than the alternative. But, still, why is the only image so far this one tweeted from a campaign flight showing NDP leader Tom Mulcair holding a Dos Equis? I sure hope the federal level has not taken the message from the most recent provincial election in Canada's biggest province when not talking about beer was key to the winning campaign.
And why Dos Equis? Who decided to put that on the campaign plane at all? Well, at least he's been seen with a brew. Time for macro and micro, craft and kraphtt to demand the nation's leaders kow-tow to a tavern table of Canadians, insist they show the electorate they drink what the common folk drink. Hey – I know a thing or two… and have a few pals in or near the war rooms. Send me a line. Campaign beer theory is not something for the amateurs. Which makes me comfortable charging a fee. You need help. I can help: beerblog@gmail.99