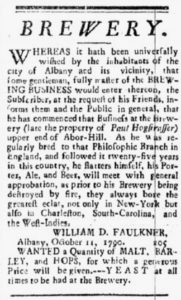 It's been a busy time. Busy at work. A family matter to attend in the States. A federal election to fret about. Baseball playoffs to obsess over. Hardly time to play around with newspaper databases. Ah, well. Winter is coming. There will be time for that. Time to come across things like this ad from The Albany Register of Albany, New York from 18 October 1790. Craig and I told the story of William D. Faulkner in Upper Hudson Valley Beer in this way:
Faulkner began his brewing career in New York City in the late 1760s. Faulkner initially partnered with New York City merchant Leonard Lipsenard—the son of Albany brewer Anthony Lipsenard—to sell bottled ale and beer; then with Stephen Rapalje and Anthony Ten Eyck, but by 1771 had opened his own brewery on Cow-foot hill, in what is now modern-day Harlem neighboorhood of Manhattan. A fire in his New York brewery brought about his relocation to Albany, and in 1790 Faulkner began renting a brewery in the city's northern neighborhood of Arbor Hill—advertising Ales, Porter, Bottled Ales and Spruce Beer. By 1792, however, William Gibbs, announced that he would be occupying that brewery. No record of William Faulkner after that point has been found.
What more can we learn from the ad? Notice that he is asking for malt, barley and hops. Local hops were both a wild and cultivated crop for over 150 years at that point in Hudson Valley history. We have a record of wild hop picking by members of the indigenous Mohawk community supplying Albany's Dutch brewers from the first decade of the 1700s. But notice another thing. This is at least his third brewery, the second one local to Albany. He's in New York City from the second half of the 1760s. Here's his ad from a New York City paper from 1768. Albany is in Revolutionary hands from 1776 to 1783, cut off from British held New York City during the war. In the spring of 1779 Faulkner is in NYC and he is hiring a gardener and labourers in the middle of the conflict, according to this ad in The New-York Gazette of 22 March 1779. So, his first Albany brewery must have existed sometime during the years 1783 to 1790 after he relocates up the Hudson after peace breaks out. His last ad from the fall of 1791 shows him brewing at least four beers. And during that time not only is he selling down to New York City but he is selling on to Charleston, South Carolina as well as the West Indies. The Dutch empire held what was then named New Netherlands from the second decade of the 1600s until it finally fell to the English in 1674. Trade routes to the Dutch colonies in the Caribbean were established by the Dutch and continued after the establishment of the colony of New York.
Faulkner was sending his beer down a well trod path. Ales and porters were apparently part of that trade after the American Revolution. Remember that Taunton ale was also being sent to Jamaica, even before the declaration of American independence. It shouldn't come as any surprise. The English had been shipping large quantities of beer across the Atlantic since at least 1577. Did they all bear the "greatest eclar"? Not sure. But if anyone tells you that all beer before lager starting in the in America in the mid-1800s was smokey, brown and crappy – clearly an untruth – why would anyone in their right mind pay to have it shipped so far? Don't believe it.