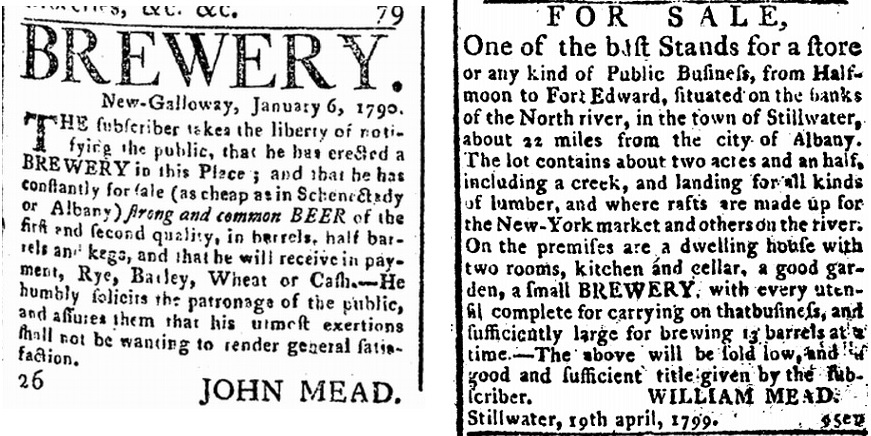 You can click for a slightly bigger image if that's too tiny. See, what they are? A notice announcing the opening of a new brewery in 1790 and a notice announcing a brewery for sale in 1799. Same last name in each notice. Hmm… New Galloway is actually Galway, New York which was improperly recorded as being named after a town in Ireland instead of its actual namesake in Scotland. Stillwater, New York sits just over 30 miles to the east of Galway. These notices are not about the same brewery. North of Albany. Hmm…
Who are these Meads? A man named William Mead is described in a genealogy of the family as follows:
WILLIAM MEAD, M.D. was born October 15, 1747 in Greenwich, CT, and died February 01, 1829 in Galway, Saratoga Co, NY, buried in Charlton, NY. He married (1) PHEBE FARRANT. She was born Abt. 1750, and died October 21, 1776. He married (2) GEERTRUYD MYNDERTSE Abt. 1779 in Schenectady, NY. Notes for WILLIAM MEAD, M.D.: Revolutionary War Surgeon, 1st New York Regiment.
Is it him? This William dies in John's town. Doesn't look right. Hang on… there is another one:
WILLIAM MEAD was born January 08, 1748/49 in Nine Partners, Dutchess Co, NY, and died February 27, 1838 in Hector, Tompkins Co, NY. He married HANNAH PALMER 1778 in Stillwater, Albany Co [now Saratoga], NY, daughter of ELIAS PALMER. She was born September 13, 1760 in Norwalk, CT, NY, and died Aft.July 28, 1840 in Hector, Tompkins Co, NY. Notes for WILLIAM MEAD: William kept a tavern in Stillwater, NY, where he had moved two years after the Revolutionary War. He served at the rank of Colonel during the Revolutionary War.
Now that looks more promising. Here is a sheriff's notice from 1790 showing William owning that tavern in Stillwater in 1790. Here is another from 1792 – see who the sheriff was? Peter Gansevoort – of the brewing Gansevoorts. And notice in the ad up there to the left that the brewery could do a 13 barrel brewing session? That is not a tiny operation. That is about the same size as the smaller kettle at the Brooklyn Brewery prior to the Revolution. It's in the same ball field as Vassar's first brewing set up in 1808. So, it's a fairly generous operation for the time. Heck, it's almost twice the size of Greg Noonan's micro in Vermont. Notice also that he moves into the area from the south, his wife from Connecticut. A lot of the folk in the genealogy appear to do that. So, just as we see folk moving up the Susquehanna from the Mid-Atlantic to colonize the central Southern Tier in the first half of the 1790s there are others from New England moving into the area around Albany in the later 1780s. Likely moving into Loyalist farms, already cleared land. And brewing their beer.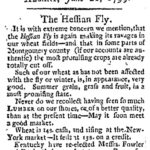 1799 was a bad year for NY brewers. Or at least a year in transition. The tail end of a recession. The Catherine Street spruce beer brewery is for sale. The once mighty Greenwich brewery of the Lispenards? Up for sale. Groshon's place is up for sale, too. Yet there are the first want ads for folk wanting to hire brewers. Even coopers. Flux? Hessian fly? Click on the thumbnail. The Hessian fly is certainly hammering the fields.
What about the other guy. John Mead, the brewer. Crap. One thousand, one hundred and eighty references to men named John in the genealogy of the Mead folk. This may take some time.