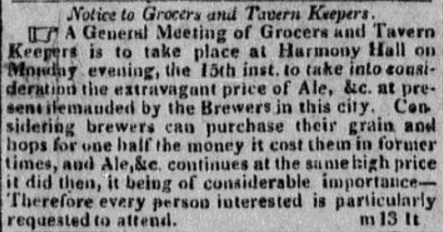 Not the cleanest image but obviously something was up in New York in the spring of 1820 if we are to believe the New York Mercantile Advertiser of 13 May 1820. What was up was the after effects of the Panic of 1819, the high point of a depression that hit the US after the end of the War of 1812 in 1815 leaving Britain even less interested in helping its former colony as well as the end of the Napoleonic Wars which saw Europe less interested in American wheat. While the Whig and Federalist brewers are in or past their last days, some still seem to be relying on status to soak the marketplace. After all, this is old New York and not some Jeffersonian frontier. The reign of the patroons just a little up the Hudson still has decades to play out.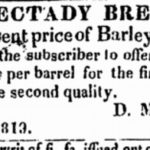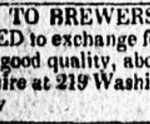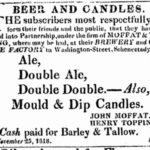 It goes both ways. Some elsewhere in the state did drop their prices as you can see in the ad to the left placed starting in December 1819, continuing deep into 1820. And people tried to barter with brewers like the guy placing the ad in the middle from the Daily Advertiser the same day as the meeting of the tavern keepers. [How much ale does 300 lbs of isinglass clear? And, come to think of it, I had no idea brewers in that era was worrying all that much about isinglass. Seems to put the whole "lager creating clarity mania" theory in perspective.] Hmm… and how about the brewer who placed the ad to the right, in Schenectady's Cabinet, to advise he's gone into business with a candle maker… although in a heroic effort to preserve the very elusive now extinct double double – clearly an ale quite distinct from the mere double ale. Trouble since Shakespeare's day.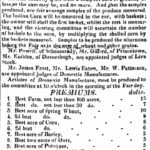 Yet, the future was now. Science was coming to agriculture in upstate New York. Ben Franklin's dream of advanced husbandry which took a foothold in Philadelphia after the Revolution finally found fertile ground in the race west – even before the Erie Canal. See? The 1820 Duanesburgh fall fair was giving out prizes for the best acre of spring wheat. Twice the prize for the best acre of barley. Then as now – Duanesburgh looked to the future.