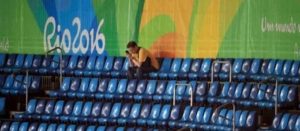 Is there anything sadder than a life's work geared to one event that gets swept away by another bigger event on short notice? Our national public broadcaster has rightly determined that the last evening of Olympic coverage is going to be restructured and cut in order that we can all watch a live feed of the last concert of the tour by the band The Tragically Hip – because the beloved lead singer with the most Canadian of all names, Gord, is terminally ill. The tour's final concert being held in the town where I live. The band is from the town where I live. We are expecting over 20,000 extra people to come to our downtown to watch the show on a massive outdoor screen or in one of the bars that will all be simulcasting the TV show. Drinking beer. Lots of beer. Bars will be as packed as for a World Cup final in a football mad land. Rec room beer fridges will be loaded as if the college reunion was on. Because the day is both wonderful and just plain rotten.
The event has taken on a cathartic tone nationally, not so much denying or defying the situation as embracing it in a celebration mixing maturity about mortality with the decision there is nothing else to do but party here in their home town or across the continent's northwherever we live. Through work I was happily if tangentially involved with small aspects of the preparations but over the last few days I have been wondering what it all means and what the intended collective intoxication, alcoholic or otherwise, says about us all. Roads will be closed. Buses are free and running late into the night to safely accommodate the only response we can offer. Because it's the natural response to the shock of the unwelcome news.
What are we doing? A joyful wake before the passing? Or just one last chance to be with the band who have helped frame our national character in ways that other countries do not get, whose song "Courage" has become an anthem for facing everything over tears and beers from personal rejection to coping as a nation with the deaths of soldiers in foreign wars. Well, perhaps a few get it, get us. The autonomous city state of Buffalo where Ethan and everyone else at Community Beer Works are paying their respects in fine style, too. Respect.
I hope the overshadowed solo sport Olympian running for Canada far from home understands and fights as hard or harder today.