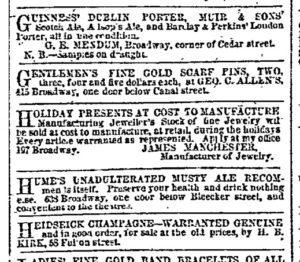 As Stan pointed out this morning in his weekly links… aka apparently for the next two weeks his weakly links…. Gary G has been posting what he has learned about about musty ale, musty ale, musty ale, and musty ale.
I have little to add. I get all confused once we get any distance past the first third of the nineteenth century. Lager history seems to give me the yips. But I will add this. That is an ad from the New York Herald of 22 December 1861 offering Hume's Unadulterated Musty Ale. Hume's ad locates the brewery at number 638 Broadway. Ten days earlier, the notice was a little different. The address is at the corner of Broadway and Bleeker Streets, an intersection in NYC that still exists – where the Swatch ship is now. Maybe it was just a bar, not a brewery. In April 1861, there was an auction at the location offer "one spendid English four pull Beer Pump." A few years later, the Occidental is looking for 10 or 12 young lady waiter at the same address. There was a robbery there the next year. Bleeker Street, by the way, is named after Anthony Lispenard Bleeker, a cousin to the brewing Lispenards of pre-Revolutionary New York City, the fact of which just cost me 30 minutes of my life in tangential searches which will come to nothing.  Nothing.
I can't find anything on Hume. Gary has a Hume, J.B.,  brewing musty ale in Cincinnati in 1859. Bet Gerry has a binder on Hume. Gerry, not Gary. Binders. On Humes. Me? Nuttin. Was Hume bringing in Cincinnati beer into NYC? Maybe. Seems odd. But that's Hume for you. Maybe. Whoever he was, he was selling musty ale in NYC in 1861. Whatever it was. He had it. Right there.