I left a comment over at Boak and Bailey in response to their noting this week of that Cloudwater cask story which whipped the British beer discussion out of its holiday slumber. That being said, I am still not sure the Cloudwater story has been properly framed so I am unpacking the comment a bit more here.  For starters, here are two tweets from Jeff that I think better get to a key factor underlying the situation: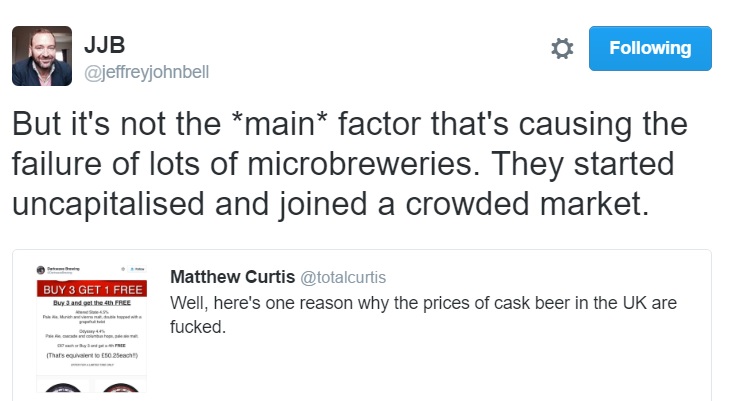 —

—
The Cloudwater press release was issued on 1 January 2017. They've been brewing for 22 month and have announced they are stopping cask production, stating:
We worry that cask beer has backed itself into a corner that risks becoming unattractive to modern breweries. 
I never trust that sort of use of "modern" as it smacks a wee bit of assumed superiority, echoing the new e-conomy of the late 1990s or at least a shortcut being taken. Especially as they don't quite say they don't make a profit – just an "insufficient" margin. Then, as you consider that, compare it to the to the brutally honest but tougher news from Dave at Hardknott on the one hand and how under capitalization can force a good brewery to face difficult decisions. Next, consider the positive story from Hawkshead which runs 65% cask that they also call modern beers.
It seems from those business stories that the question could be better asked as why Cloudwater took on cask without the full resources – or apparently a full plan to make it succeed as other success. Is it as simple as that?  I did find Eddie Gadd of Ramsgate Brewery's tweet a bit telling:
…most new brewers (inc me) don't look too closely at the numbers during start-up – we don't want to be put off the dream!
I notice that the Cloudwater press release mentions they are working with Shelton Brothers and I have a suspicion that I have had their beer at the Allen Street Pub in Albany, a cask specialist, where, due to actual friendships, I do not seem at risk of ever being shelted.  Perhaps it was that pint of Black IPA with a balancing splash of someone else's brown ale to give it some joy.
In any event, the idea that a firm representing about 1/3000th of British cask production not succeeding is cause to raise prices generally is a bit off. It seems from what we are actually being told is that cask places natural production, distribution and even geographical constraints on the market that the ambitions of international craft can't overcome or at least cannot easily reconcile without focus and extra capitalization. Makes sense. It is a thing unto itself. Should have been self-evident from proper initial market research.
There is nothing wrong with changing course. Do what makes you money and what you are interested in. But don't slag the successes of others or blame the market. Congratulate others who succeed where you can't or shouldn't have tried.