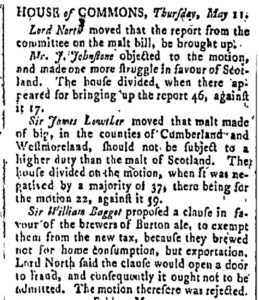 I hate… yet love… the small nuggets of information I come across when scanning the news reports from the 1700s. That's a report from the New-York Gazette and Weekly Mercury of 24 July 1780 describing a debate in the House of Commons in London on a committee report on the taxation of malt. The regional rivalries between the big (or bigg) of Cumberland and Westmoreland as opposed to Scottish malt is one thing but that tidbit about the taxation of Burton Ale is gold… maybe.
Burton appears to be in the New York City market from 1770 from the notices like this one from the New York Gazette of 12 November of that year that offering it for sale at the Wall Street store of Samuel Hake. Eight years later, according to the NYGWM of 24 April 1778, it is being sold at the Vendue Store of John Taylor near the Fly-Market at the foot of Maiden Lane at the mouth of the stream associated at the time with the breweries of Medcef Eden and two Rutgers.  Taylor is also selling Bristol beer and our beloved Taunton ale along with porter.  Plenty of the results of English brewing is ending up in the colony.
Notice that Sir William Bagot does not deny the argument that Burton is brewed primarily for export, just that it opens a door to other presumably less valid claims – and perhaps illicit domestic sales. About a year ago, Martyn and I exchanged a few thoughts about the lack of understanding about the origins of Burton ale. But this bit of a Parliamentary debate is one of the only references I have found indicating an understanding at the time that Burton – like Taunton, porter and others – was part of large and organized North American export trade during the second half of the 1700s.
I wish I could figure out how to determine its scale.