As I mentioned the other day, I have been thinking about Bert Grant's hop oil vial.* In his online obituary as written by Michael Jackson, under the head "How Bert Grant Saved The World", the vial is described in this way:
"When you were brewing Canada, ales were still very popular. How many units of bitterness did they typically have?" I once asked. "I don't know. I hadn't invented the scale," he replied. He was reputed to carry a vial of hop oil, and to add it to glasses of Bud, Miller or Coors when they were the only brews available. He was said to have done this at meetings of Master Brewers in Milwaukee and St Louis, dismaying his peers. "Michael Jackson adds it to his coffee," he is alleged to have said, in his defence. Did he really say that? I think that joke was coined by beer-writer and consultant Vince Cottone.
See, that vial is one of the most important artifacts in craft beer history as it contained one key element of the DNA which went into craft beer's hoppy obsession of today. A bit of a viral vial. I wanted to know where it came from, how early he was using it and in doing a little digging I came to realize, like E.P. Taylor… as well as half the malt in US craft beers today, Bert Grant was one of Canada's great contributions to good beer as we know it today.
In 1998, three years before his death he published a autobiography, humbly entitled The Ale Master: Bert Grant, The Dean of America's Craft Brewers. Not a long book, I recommend it highly. The copy found on eBay is a sturdy wee hardcover. And, on page 33, there is a discussion of that hop oil vial… but one that sits a little out of sequence sequence in a side panel. [It's that sort of wee book, full of snippets and asides… not unlike this aside.] This side panel talks about how he carried a dropper bottle of hop oil and that he had sent another one to his pal George Stein in Toronto. But it doesn't say when this was – before 1963 when he was living in Windsor, Ontario… or was it before 1959 when he left the Carling branch of E.P. Taylor's Canadian Breweries in Toronto where he had worked for 15 years, ending up as assistant director of microbiological control. Or was it only a practice he adopted later, after he leaves Canada for Yakima in Washington State in 1967 after working as a consultant and testing out his ideas on a pilot brewery at his house in Windsor across the river from Detroit, Michigan?
He certainly could have developed the hop oil habit before moving to the USA. In the book and according to a summary of a Associated Press article dated 5 September 1997, Grant made that 1967 move moved to Yakima heart of the nation's largest hop producers to work on hop extracts and here he later pioneered a process of pelletizing hops to preserve freshness. In his San Diego Times AP obituary it states he was technical director of the hops company S.S. Steiner Inc., the company he moved to Yakima to work with. Again, the book suffers a little from same sort of loose chronology. But it certainly seems he could have been fully proficient with a hop oil eye dropper before he left Canada.
It left me wondering if I was going to make a national jingoistic thing out of this damn hop oil vial at all. How am I going to prove that one of the founders of US craft brewing was really just a drop in saying hello from Ontario full of pre-existing ideas? Hmm… then, I saw something else in a story published in The Times News of Idaho on 24 August 1997, also under an AP dateline, there is this passage from Jim Parker, former director of the Association of Brewers based in Boulder, Colo.:
Part of what drove him out of the brewing business and into the hops business was his dissatisfaction with the monotonous beer that most breweries were making. When he ran the pilot brewery for Carling (a subsidiary of Canadian Breweries Ltd.), every year they'd say, 'Do you have any new products to bring out?' Each year, he'd bring out the same beer and say, 'It's the best damn beer in the world.' All the executives would agree. But the marketing people would say, 'But Bert, it's darker than our regular beer. Will people know it's beer?' And sales people pointed out there were three different malts and four types of hops going into the beer. 'But that's expensive, Bert. Can't you make it with one malt and one type of hops?' And he'd roll his eyes and go back to the pilot brewery. Many years later, Grant served his favorite beer — the same recipe he'd promoted for so many years — at a 1981 Yakima Enological (wine) Society meeting. They all went, "Bert, why can't I buy something like this in the store? It's so good!' He explained, and they all said, 'Let's open a brewery and make it.' And that's Grant's Scottish Ale.
Hmm… nothing about the vial but look at that: "three different malts and four types of hops going into the beer. " That rings a bell. At page 28 of his book, Grant discusses apparently the one beer he had particular fondness for in his early days with Carling in Toronto string in 1944:
… when I started in this business, there was no mucking about with the brands. Carling brewed a copper-coloured ale called Dominion White Label, which was, by our analysis, the most heavily hopped beer in Toronto (with English Fuggles, Kent Goldings and other hip varieties.) 
He described the decision to drop Dominion White Label "the triumph of the mass-production mind-set." Then on page 75, he goes further:
Scottish Ale was the obvious first choice because it was my favorite home-brewed beer style – and had been my favorite since 1945, when I first tasted Dominion White Label ale at Canadian Breweries. The emigrant Scottish brew masters who made Dominion White Label assured me that I was tasting the same kind of ales that were brewed in Scotland… I knew exactly what I wanted to make: all malt, intensely hopped, naturally conditioned Scottish Ale that would be as close as possible to Dominion White Label.
One email correspondent° who knew Grant described the hoppiness of his beers in this way: "That Scotch was pretty hoppy. And the IPA was in your face. None of this juicy shit."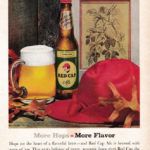 Hoppiness was a still a key selling point in Canadian ale brewing in the 1950s. As you can see from the ad to the left for Carling's Red Cap ale, more hops equaled more flavour. And consider this TV ad for Red Cap from the time, for any number of reasons including the massive sandwich on the massive swing. But this beer, Carling Red Cap ale, was the beer that Grant insisted was under-hopped, that was the result of the triumph of the bean counters.
What was Dominion White Label? Inspired by Lost Breweries of Toronto by Jordan where Jordan tells the tale of the Dominion Brewery of Toronto in the later 1800s, one blogger has tried his hand at a recreation. The Dominion Brewery was where White Label was first invented. By the 1930s it ends up in the hands of E.P. Taylor as part of his aggregations and consolidations which eventually fall the umbrella Canadian Breweries around when Grant shows up as a 16 year old. As shown above to the left, in the 1893 journal The Dominion Illustrated Monthly, Dominion had a prominent display at the 1983 Chicago Worlds Fair. Its "white label" in the middle was the certificate from its victory at an 1885-86 exhibition in New Orleans. It advertised its many such victories, including in an 1893 magazine aimed at the medical profession up there to the right. So, it was a thing and a great thing and… a Canadian thing. And if Grant is to be believed about not messing with the recipes, in 1944 when he first had it it may well have been much the same thing.
Life goes on and in 1995, a full 51 years after starting out his brewing career at E.P. Taylor's chemistry labs when he was sixteen, Grant sold out – in a way. He sold his brewery to a conglomerate but stayed on as top brewer with plans of expansion with his own hand still firmly on the tiller:**
Burt Grant has sold out, in a business sense. Yakima Brewing is now controlled by Stimson Lane Vineyards and Estates, part of a huge corporate chain topped by UST Inc., the parent company of U.S. Tobacco. But Grant, who continues as brewmaster, says he's still making quality beers "to please the most demanding palate I have ever encountered: my own." The Scottish-born, Canadian-bred Grant, 68, began honing that palate at age 16, when he went to work for Canadian Breweries Ltd. (now Carling). His brewing career led to jobs in the hops supply business, which brought him to the heart of Washington's hop country in Yakima, where he opened a tiny brewery in 1982. "The brewery was doing well, but not spectacularly," Grant says. "All the stuff I liked doing – product development, quality control – was being diluted horribly by all the worries about financing and marketing." Stimson Lane "came to us out of the clear blue sky, with an offer we couldn't refuse." Grant has been able to double his production capacity, to an annual 40,000 barrels. And he's talking about building breweries in other parts of the country to expand his market, as Seattle's Redhook and Pyramid have done.
Grant passed away on 30 July 2001, according to his New York Times obituary, "at a hospital in Vancouver, British Columbia, where he had recently made his home" and where three of his five children then lived. All five were reported to have been residing in Canada at the time of his passing. His life, his beer, his career and maybe even that vial of hop oil framed in large part by the 23 years from 1944 to 1967 when he learned his trade in the bowels of Canadian Breweries owned by another great contributor to the history of brewing, Edward Plunket (E.P.) Taylor.
*Not hop "juice" by the way.
**Sound familiar? The quotation is from a summary of a story by Rick Bonino in the The Spokesman-Review of Spokane, WA, on 12 March 1995.