Week three.* I understand this is when a beer blog intern really lets the side down. I mean there is gardening to do, day dreaming about ice cream making demands and quality napping time to be enjoyed. Me, I weeded the leeks and harvested the garlic just yesterday. I've no time to write my own stuff. I clearly need a need a break. Fortunately, others have been doing a particularly swell job keeping an eye on the ball so there has been lots to think about this week.
What Is Bad Aurosa and What Isn't
First, my co-author-in-law Robin LeBlanc wrote an excellent piece on a beer which neither of us are likely to ever see on a shelf let alone buy. Aurosa, a Czech brand aimed at… women. All of them apparently. All at once. But that, as you know, makes no sense. Robin deals with this handily:
…the type of women they have in mind are a very specific subset. Usually white, thin, rich, and the type that identify deeply with Kendall Jenner's instagram account. There is nothing wrong with this type of woman, but if you're going to market to all women you have to acknowledge that we're not all one type and that is why women don't need a brand of beer specifically for them.
This has wider implications beyond this mockery attracting form of thick-headed sexism… which, BTW, can in turn attract casual hate.  The fact is beer is not manly and also not not manly. It isn't noble or ignoble.  It's a fluid that gives you a buzz for lots of your money which can be branded in any number of ways, even the quite stupid – and, as Maureen wrote about in 2009,  even the blatantly racialized. Why all the attribution? Money? Money.
I illustrate the tendency in reverse. One aspect of the chameleon-like status of gender and brewing has been the presentation of early brewing as all female, an argument often begins with a paragraph on that Sumerian goddess. It is that, yes, and more. And less, too. Jay some time ago posted a helpful list of all the goddess and gods and neutral deities of brewing. The list conveys the many labels cultures and eras imposed on the joy juice. We make of it what we want. Or someone wants to tell us to want.
As with many things about beer, along with the money I blame the alcohol but if we do consider the many faces and facets of beer and brewing over time and cultures, for me, the interest lies in the diversity of ways it acts as a conduit – a trigger even – for both the highs and depths humankind can come up with.
Lars Travels East So You Don't Have To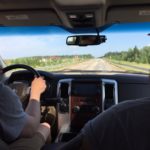 Clearly driven by more than booze and cash, we have Lars. Is there any more dedicated beer researcher than Lars Marius Garshol? This week he is sending tweets from out front,  where the new ideas and ancient ways are to be found. The eastern front that is. He sent out this update on Tuesday:
On the road to Kudymkar. Car shaking so bad I can't look out the window sideway, or I'll be sick. Should be there in an hour or so.
According to wikipedia, Kudymkar is a town and the administrative center of Komi-Permyak Okrug of Perm Krai, Russia. Lars took himself there to document traditional rural farmhouse brewing techniques and his twitter feed is on fire. Well, it's not. OK. It is not flammable. But it is a hot take! Fine, it's not – as it is actually well researched and properly considered. Let's just leave it that his work is fascinating and valuable. This one tweet is more marvelous that 98% of the entire internet. What did you do for beer this week? Not much, right?
Rich Brats Pay Others To Make Beer
Much has been made of the article in Forbes on the three sons of rich people who are starting a brewery. The reality that money speaks for money may underlie the very access to the publication. Fun making of the three lads and story's errors is to be found at Beervana but the best thing is the plan they proudly describe to make "pilsnar" – it's the bestest dumb thing about beer of all this week.
But the matter may have gone to far with this question posted by John Urch: "Have three more arrogant, hubristic people opened a brewery?" As we all know, the answer is yes (and you can all name them.) Often it is a requirement for big craft success.
Andy Crouch on the Need for Transparency
The release by tweet of Andy's July 2017 column for BeerAdvocate has caught the attention of more than a few. There was even the obligatory if weak gotcha .gif sighting. In his column, Andy* argues that the problem with big beer buying into craft bigly is all in the disclosure:
…consumers have a right to know about this. If you're a Big Beer-affiliated brewery, own that. Don't hide it. In your company's "About Us" or "Brewery History" page online, don't omit that AB InBev owns you as almost every formerly independent and now High End brewery does. Don't play cute about it with the press. Stop telling consumers nothing has changed. Anyone saying that is either lying or negligently naive.
I spoke up thusly: "Add transparency about contract brewing + non-ownership financial arrangements, too. Maybe records of health + safety orders." See, what matters to me has little to do with ownership but plenty to do with interests. I don't care to spend my money on bad employers or false fronts. If we benefit openness and transparency, let the light shine everywhere. I want to know who is getting paid by whom, who is contract brewing, who is cashing out, who isn't a good employer, and whose civics are admirable.
Other Stuff
More fun hate on for BrewDog. Why do they make it so easy?
Our stunned Jim Koch quote of the week explains what his version of big craft thinks of some of its customers – those who like to think:
It's a dilemma other nationally distributed craft brewers have faced, including Jim Koch, the founder of Boston Beer, which makes Sam Adams and has annual sales of $879 million. "If you make great beer," Koch says, "and people love it and drink it, and more and more of them love it and drink it, the beer geeks will turn against you. You're talking about roughly 5%, but they're an influential 5%.
If you are reading this – heck if you are reading about beer at all – that's you. Get in line. Money needs more money!
Presenting a far more coherent grasp on reality, Stonch returns us to the topic of pie and mash reviews, with Jeff's deft hand giving grace to an otherwise modest corner of English culture found in a car park.
And finally, Stan wrote a well thought out piece on what it means to be a brewmaster. Another form of over-reach, self-promotion exposed in a way. Is that all this is about?
And there we end your Monday morning story time. The book is being gently closed, your blankey adjusted, you can finish off the last of that nice warming drink and go back to quietly dozing at the office for another summer's week.
*No, it's the fourth, you dope.
**Disclosure: we hung out once four years ago.