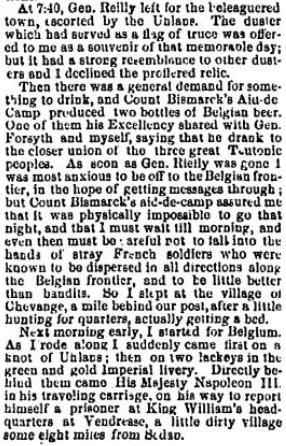 A quick historic vignette. To the right is a portion of an article entitled "The Surrender of Napoleon" published in the 7 September 1870 edition of the Daily Albany Argus from New York's capital reporting on events from 1 September, occurring an ocean away after the defeat of France at the Battle of Sedan which took place on the Franco-Belgian border. The full article is here.
The interesting thing for present purposes is, of course, the fact that Bismark calls out for a drink and is presented with Belgian beer. He shares it with the journalist as well as General Forsyth, a US officer who was present to observe the battle from the perspective of Bismark's Prussian lines. In another article from the day before published in the Commercial Advertiser of New York, there is a suggestion that the beer met the needs of the moment, the Belgian beer washing down the hearty congratulations which were being passed around.
For me, this is one of the earlier references to Belgian beer that I have found. This may be surprising but we need to keep in mind that Belgium only becomes the independent country in 1830 so it would be reasonable for earlier references to be regional rather than national. I would be happily corrected if that is not the case, if others have earlier references.
Immediate Update: via a Google Books search in an 1858 issue of Harper's New Monthly Magazine, I found this passage in a temperance minded travel piece fabulously titled "Vagabondizing in Belgium" which uses the term once:
One day in Antwerp I asked if they had good water there. A washer-woman sitting near me, with lager-pot in hand, promptly answered, "Oh yes, excellent water, all the Englishmen that come here bring such gray, dirty shirts, but once or twice washing here brings them white as milk." A stevedore close by, seeing by my countenance that my question was not fully answered, undertook to set the matter right by saying, "Ohyes, we have first-rate water, only that sometimes in winter it gets so hard on top that the vessels can't go at all, then comes tight times for all us commercial people." The landlady (who is also cook and barmaid), corrected the ignorant, uncivil persons—"it was not the river-water, nor the sea-water that the gentleman was inquiring after at all, but it was the well-water that the gentleman wished to know about, "and proceeded to inform the gentleman that it was the very nicest water in the known world, and made the nicest soup (just by adding a little beef, and cabbage, and turnips, and potatoes, and a few such little things) that ever a gentleman partook of. But the gentleman himself corrected and startled the whole company (as much as so heavy a company could be startled), by asking, "Was it good to drink?" Each heavy head swung slowly upon its heavy shoulders, each heavy eye was aimed directly at the querist's face and stretched wide open with stark astonishment. At such a crisis only the landlord had words to offer. That important and heaviest individual of them all—he who seldom deigned to make long speeches—whose placid nature was seldom ruffled—who deemed it pious to drink and smoke, and who devoutly followed the path of duty—he who, saturated like a sponge, swelled from the topmost bristle to the tips of his toes with honest lager—he whose favor I had assiduously courted and whose resplendent face had begun to beam benignly o'er my foreign faults—now turned upon me looks of pity and contempt; and, stretching the doubled chin full half an inch above his massive chest, in his sharpest tones demanded, "To what?" then feeling that he had full well resented the serious insult to his profession and his country, he slowly turned upon his broad, flat heels, elevated his ponderous elbow, a connecting spring turned up his face, his jaw dropped down, his eye rolled up, a short faint gurgle, a long-drawn sigh, and he glanced serenely through the bottom of a large glass tumbler. But I never regained the great man's esteem, nor do I, to this day, know whether the water of Belgium is fit to drink.
Notwithstanding their constant guzzling, I was ten days among Belgian drinkers before I saw a man so drunk that he could not walk erect and treat politely each one he met—which proves it, though an unseemly practice, yet a safer one than drinking whisky. Since Noah left the ark and the sons of Noah raised up new cities, each new-formed nation has found some new stimulant; but not one among the list of findings is at once so wholesome, cheap, and harmless as Belgian beer, and I look upon its introduction into the United States as an important reformatory movement. Temperance, total abstinence, Washingtonian, and other reforms have had their day and are forgotten, and the current year sees more alcoholic destruction than any former one has done. Those villainous mixtures that are labeled Brandy, Port, Champagne, etc., that flow into every street and alley of our cities, to every village and crossroad of our country, are rapidly telling upon our national health, temper, and reputation. Our ambitious men are changed by fiery poisons to reckless adventurers, those of medium virtue to rabid criminals, and we are coming to be looked upon as a nation of desperadoes. One of the first salutations I receive from nearly every person with whom I become acquainted is, "You have a great many murderers and incendiaries in America." I answer that of course we have, while receiving hundreds per day of the vilest outcasts of all Europe; but feel all the time that that is not all the reason, and am anxious that the introduction of weak malt liquors and the increased growth of light wines should quench that fire which is burning out the best young blood of our country. The almost universal robust health that I meet is a powerful advocate in favor of this least of many evils. Four persons of each five I see have perfect, substantial health, while in the region I came from four native adults in five arc in some way diseased. Of course the constant indoor life of females, the worst of all kitchens, and the infernal quackery that reigns triumphant there, have much to do with that degeneracy; but the effect of our national tipple is not likely to turn out a slight one, provided that tipple continues to increase in quantity and deadly power as it has done for ten years last past.
Hey… if I coped another 400 words from the article this would be a #BeeryLongRead!
Updated Immediate Update: So, let me get there. To reach the 1500 word minimum in an absolutely cheater-pants way I offer you an illustration of a slightly later reference from this magazine article in a periodical named Epoch, 1887, volume 2, pages 31 to 32 under the heading "European Correspondence: French Beer" authored by one Charles Seymour:
French Beer PARIS, August 6, 1887. The rapid and steady increase in the consumption of beer is likely to continue, for the phyloxera, mildew and black rot still make sad havoc with the vines, and although our American plants are well acclimatized in certain districts, the total average under cultivation does not increase. Wine is, consequently, not so good and so plentiful as it used to be, and beer fast replacing it as a beverage. This extension in the use of fermented liquor has finally aroused the French brewers to call attention to the fact that excellent beer is still made in France, and to show their unpatriotic countrymen that a good deal of beer purporting to come from the fatherland is really brewed at no great distance from Paris. For this purpose they have interested the Minister of Agriculture, and that official has decided, in concert with the leading brewers, to hold an exhibition of all the products, materials and machinery used in the manufacture of beer, and all the utensils employed in its distribution and sale. No foreign beer will be admitted, but any country is free to send samples of the raw material, machinery and implements used, provided they are represented by French agents. French brewers confidently believe that when their beer is drank at the Palace of Industry it will be found quite equal to any made in England, Germany or Austria. In fact, it is not impossible that the light, clear and sparkling beer manufactured in this country may prove to be superior in nutritious and digestive qualities to its German rival. Visitors to the forthcoming exhibition—which opens on the 21st inst. and continues until October 31st—will be enabled to sample the brews under the best conditions, as especial pains are to be taken to serve the beer as it should be served; for it is a fact that most of the dealers in wines and liquors have known very little about handling beer. The temperature of the cellar, the care of the casks, and above all, the cleanliness of the pumps and conductors are details utterly ignored by the majority of French liquor sellers. How often have I heard American visitors here complain of the detestable quality of the beer and sigh for a glass of Milwaukee. It is not because the French beer is bad per se, it is because a Frenchman doesn't know how to serve it. When we remember that France is essentially a wine country, and that beer drinking here is comparatively a modern custom, it is not surprising that so much ignorance prevails about the way to properly handle the "blonde" and the "brune." Another advantage of the exhibition will be to place before the eyes of French brewers the latest improvements in use in England, Germany and Austria, for it is unfortunately true that in this country the brewers are a long way behind their neighbors in the use of modern appliances. Curiously enough while so many Frenchmen think they prefer foreign beer to that made in their own land, France produces the barley that is used in the brewing of the best English, German and Belgian beer; on the other hand the French hops are not in favor with French brewers, who prefer to import the German and Belgian plant. So you see that beer is the fashion in this gay city, although Frenchmen claim that Gambrinus was a melancholy man with hazy ideas and consequently diametrically opposed to their national genius. Beer drinking, as it is practised in England and America, is, happily, unknown here. No Frenchman will stand up at a counter and toss off a glass of beer, and so all attempts to introduce the bar system have failed. A Frenchman wants to sit down when he takes a drink, and if he has some one to talk to, so much the better; otherwise he will look at the passing crowd, which is always an interesting study in this great city.
Result! Under both the newspaper search as well as Google books, prior to 1900 there are very few references to the topic, just a handful. Which is interesting. Fabulous reference to the phyloxera being a cause of increased interest in beer.