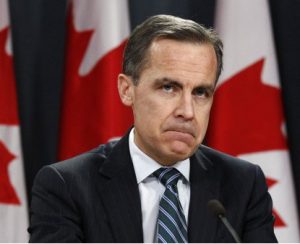 I am the sad Canadian. I hate the week when Thanksgiving comes around late every November. It is the one holiday Canadians don't get to participate in any way, even through analogy. Face it. Our early October Thanksgiving  is the least fun combo that vague residual churchiness and storage squash could muster up. And, yes, we have bonus days off like Boxing Day and Easter Monday – but what do we do with them as a culture? Nothing. Today to the south, Americans seem to plan to get hammered to cope with dodgy distant cousins while setting off exploding turkeys launched from vats of hot oil.  And not one of them in any way took seriously the advice on what beer to pair with their family festive feasts. I want a US Thanksgiving, too. Until that day, I am a sad Canadian.
That being said, Josh the Owner of Spearhead has spoken of one of the few things we have… or rather should have… that Americans can't have…  but, in fact, he ain't getting his hands on it at all:
Hey @ONCannabisStore it's been over a month since you opened. I made an order @ 6:45 AM on October 17. Still has not arrived. How do you ever expect to shut down an illegal market with such poor customer service?
You know what they say: Hayters gonna hayte.*
Early afternoon update: How did I miss this? Look at this fabulously transparent statement from the Beer Sisters on what working in what they call the beer sommelier gig looks like. No dubious claims to being independent and certainly not journalists. An excellent measure against which others should be measured.
While the US has had a truly horrible run of natural and man-made disasters to cope with, this call from Sierra Nevada to respond to the wildfires in its part of California stresses the need to respond to crisis by supporting the actual neighbourhood as you can:
"Although Chico and the Sierra Nevada brewery were spared, the Camp Fire has devastated neighboring communities where many of our friends, families and employees live," said Sierra Nevada founder and owner, Ken Grossman. "This community has supported us for 38 years and we're going to do everything we can to support them back."
Speaking of fire, the maltsters Muntons tweeted out informative information about a fire at their premises that should be trotted out and thrown at anyone lost for words who blames Twitter as a communications platform:
Local Fire Services arrived quickly at the scene with 8 Fire appliances and a high-level access platform… Muntons have a robust Business Continuity system in place that has been tested annually and proven very effective… For further information please contact: Nigel Davies, Technical and Sustainability Director…
Speaking of the simplicity of malting barley for drink, I've been reading a bit in the southern media about the horrible prospect of jacked up prices for craft beer but up here in the true north strong and free that all adds up to good news according to the Western Producer:
Looking ahead to 2020, Watts showed data forecasting relatively steady beer production in the United States compared to 2015, with craft beer rising from 29.1 million hectolitres to 39.0 million, while non-craft beer declines from 194.5 million to 183.9 million hectolitres. However, due to the increased malt usage in craft beer production, the total U.S. malt demand will grow from 2.014 million tonnes in 2015 to 2.211 million tonnes in 2020.
Money, money, money. Speaking of prices getting all jacked up, one should note that GIBCS 2018 is not for keeping… apparently:
…a fellow beer writer who tasted this beer with me, said he wishes there was more of the soft, Tootsie Roll-esque flavors that have characterized past versions. Again, this is total nitpicking. This beer is better than 90 percent of the bourbon barrel-aged stouts other breweries are putting out.
Hmm. Spot the suspicious things with that assertion. Speaking of which, Gary Gilman places the singular success of Belgian beer this week in the lap of the now long late Mr J:
Stella Artois is of course today a growing force in the premium international lager segment, so Unibex was right in a sense, but that growth came in the wake of the romance Jackson created for Belgian beer. Without that groundwork, Belgium would be one of a number of European countries vying for sales internationally and likely well behind Germany, Denmark, and Holland with no cachet, moreover, attached to its beers.
I can't buy it. Aside from the fact of the continuation duration of his particular death, the general fiction of the few founders in the micro/craft tale – and the necessity of the GWH – is how we would have to believe that no one else would have noticed… whatever. In this case, it requires us to believe that no one would have noticed the indigenous beer culture at any time during the 40 years since Belgium's brewing.** Not happening. Romance? Nope – it's been big beer driven, moolah motivated and, frankly, much of the export expansion came just far too late along the timeline for the Jacksonian touch of the hem: "…exports to the USA have risen tremendously from a mere 2 million litres in 2005 to over 130 million litres in 2009." Stella! Stella!!!
I love this speedy 1983 BBC guide to speedy home brewing.  Notice how it ends with a simple "yum"?  It gave me nostalgic pause. And there was an interesting juxtaposition with that to be observed, drawing both from this ying to this other yang. I don't know why in particular it struck me other than the first being the small mutual affirmation pool while the other was a powerful personal kick against construct. Which persuades you more? And do either give more pleasure than the happy man of 1983 enjoyed?
Finally, as the next few weeks drag on, each day shortening before the winter equinox, remember to lay off the sauce – as at least one Scottish medical man recommends:
He said: "We now have new evidence that the weather, and in particular the temperature and amount of sunlight that we are exposed to, has a strong influence on how much alcohol we consume. Furthermore this weather-related alcohol consumption is directly linked to our chances of developing the most dangerous form of liver disease – cirrhosis – which can ultimately end in liver failure and death."
Death! I understand that is even worse than Stella.
Another week has passed. Soon it will be December – but before then we get to gather as a nation and watch the Grey Cup this Sunday. Bet just knowing there is three-down football to the north ruins many a US Thanksgiving dinner. Don't let it. Be yourselves. And check out Boak and Bailey this Saturday where no doubt they will have an update on the UK's plans for Grey Cup celebrations.
*For years I have wandered this earth waiting for the right moment to use that particular Dad joke. Notice I did not write "Hayter's gonna hayte" as that would be rude.
**Whatever that in fact means.