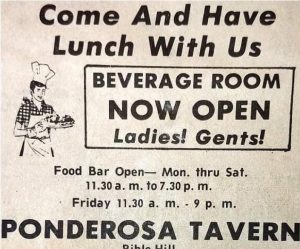 Two evenings of work this weeks seriously imposed on my idle key tapping time. I know you share my pain. Anyway, it's just as well as it's been a quiet week from my point of view.
The Ponderosa Tavern is  shutting its doors in my old hometown of Bible Hill, Nova Scotia after a five and a half decade run. I never actually went to The Pond as it was a bit rough in my day but it is interesting to learn about how taverns, a beer-only form of establishment, were approved under the local law. There was a local vote in which, I note, the folks of Bible Hill near the proposed tavern said "NO!" while those who lived farther away said "YES!"
Another great photo essay from Martin.
Towards the end of last week, the Brewer's Association issued their new guidelines for today's temporary beer styles which might stay relevant until September. Making fun of these guidelines in sorta blog fodder circa 2009 so I will leave it there. It's also far harder to make fun of something so evidently off the rail so I will just leave it there.  Also, if I use the new guideline for anything it might be as a road map of what to avoid so I think it is best if I just leave it there.
The man sometimes known as Stonch is reminding us all to get a life as again he takes a long walk in Italy. There may be beer.
Here's an interesting video on the expansion of New York, early bits of which I think might not be entirely correct given my research a few years ago into colonial New York breweries. See, folk used boats and weren't waiting for roads to be built. So there were breweries up the shore.
Geoff Latham has found an excellent bit of information, a miraculous 1690s plan to create 1:10 malt extract syrup for navigators to address the bodily perils faced at sea:
…and they are no other than Corn and Water concentrated, or reduced into a more compact and narrow compass; the one for the extinguishing of Hunger, the other of Thirst…
You know you are going to be a bit disappointed by an article on the state of alcohol retailing in Ontario when the second line starts with the words: "[f]ollowing the repeal of alcohol prohibition in 1927…" We didn't have prohibition. We had temperance. Different. Still, this ain't a bad response to the chicken littles who fear the costs of privatization:
There are two important lessons to take from these exorbitant claims. The first is that the figures that opponents of the plan are claiming are entirely unsubstantiated. They are simply the figures they claim. In order for them to have any legal weight whatsoever, they would have to be proven in court, which would require The Beer Store to open its books. Given the grandiose figures being tossed around, it is entirely possible that The Beer Store is bluffing in an attempt to maintain its privileged treatment. The second important lesson here is the price of cronyism overall. The government over-regulating and picking winners and losers in the market hurts consumers twice over. First through inflated prices and poor customer service, and again as taxpayers via legal challenges.
How many journals can I keep? I have a cheese one, a gas station bathroom one, a favorite socks one… thanks be to God I have beer to fall back on as a pleasure, not a task. Speaking of odd habits, don't find yourself collecting hundreds of collector beers. No one cares.
Jeff's on a book tour. Speaking of books, Boak and Bailey have published a greatest hits. Which is good. I loved REO Speedwagon's greatest hits… a lot. So I am looking forward to Balmy Nectar all the more.
It's fun to pick on an article with so many errors but the underlying unspoken truth might be worth noting – folk are spending a lot on craft beer without any identification that it is good value:
People spend more on craft beer every month than they do on their monthly cell phone and utilities bills. Drinkers are shelling out an average of $59 per month on beer, a new survey from Chicago-based market insights agency C+R research, found. Millennials spend $5 more. More than half (56%) of millennials said they drank an ice cold craft brew at least once a week.
Millennials. Go figure. Likely members of the style set.
Another week in beer in the books. No great shockers but there is still the rest of Thursday and Friday. Want to know what happens then? Check out Boak and Bailey on Saturday and Stan on Monday.