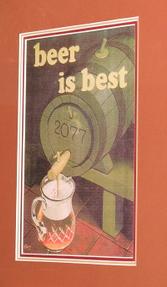 Not being American in the national constitutional sense, though somewhat in the continental Vespucci sense, sometimes I find things like American Craft Beer Week and a Declaration of Beer Independence all seem a bit too hooray for everything for me. You remember "Hooray for Everything" don'tca? They were in one episode for about 17 seconds of the Simpsons fifteen years ago, a youth musical group of "clean-cut youngsters" who sing about "the dancingest hemisphere, the Western Hemisphere." In this case, however, it's apparently about the greatest "beverage of moderation" instead. And keep tea out of this, wiseguy!
Andy was wondering a bit about the promotion as well, especially the part in the Brewer's Association material that states their members "want the week to inspire beer enthusiasts to declare their independence by supporting breweries that produce fewer than 2 million barrels of beer a year and are independently owned." I don't know about you but I would expect that beer made by an operation making 2.5 million barrels a year has a lot in common with those making say 1.25 million a year. Hardly a reason to distinguish one from another and, frankly, hardly the hallmark of "an artistic creation of living liquid history made from passionate innovators."¹ But, to be fair, this is a PR effort that, like the recent craft brewer pep rally video, is really aimed at someone other than me. It seems to me that it's aimed at the brewers themselves and the clients that have yet to commit to a relationship. Me, I just want a tasty beer. It could come from anywhere for all I care… or could it:
During the discussion portion of Beer Wars Live Greg Koch pointed out that Stone Brewing's Arrogant Bastard Ale is the nation's top-selling craft 22-ounce package. How's that for a target? If Anheuser-Busch could brew that beer for less wouldn't they? So to the line I've heard so often: "The big brewers could brew whatever they want if they chose to" I say "Poppycock." I'm of the opinion they can't brew the beer at any price. It's not in their DNA.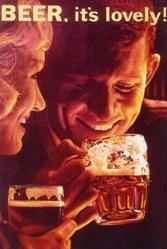 ² I don't know if it is about DNA but I get Stan's point – it may be within their technical capacity but it is not in their business model. But is it really in the business model of the brewer that makes 1,999,999 barrels either? Does the recently released lists of both the top 50 brewers and top 50 craft brewers really provide that much of a distinction? And what about Yuengling anyway?
So, if you don't buy into brewers as celebrity… or brewing as nationalistic jigno… or can see "not quite mass industrial" as being fundamentally different from "mass industrial"… well, it all makes for a yearning for the simpler approach to ads in the England of the 1930s like "Beer. It's Lovely" or "Beer is Best." Such short simple sentences. All the everything with a bit less of the hooray.
¹[Ed.: that's rather plummy… a bit ripe… where is my cravat anyway?]
²[Ed.: image brazenly nicked from Pete's blog. Buy his books. Now I feel better.]