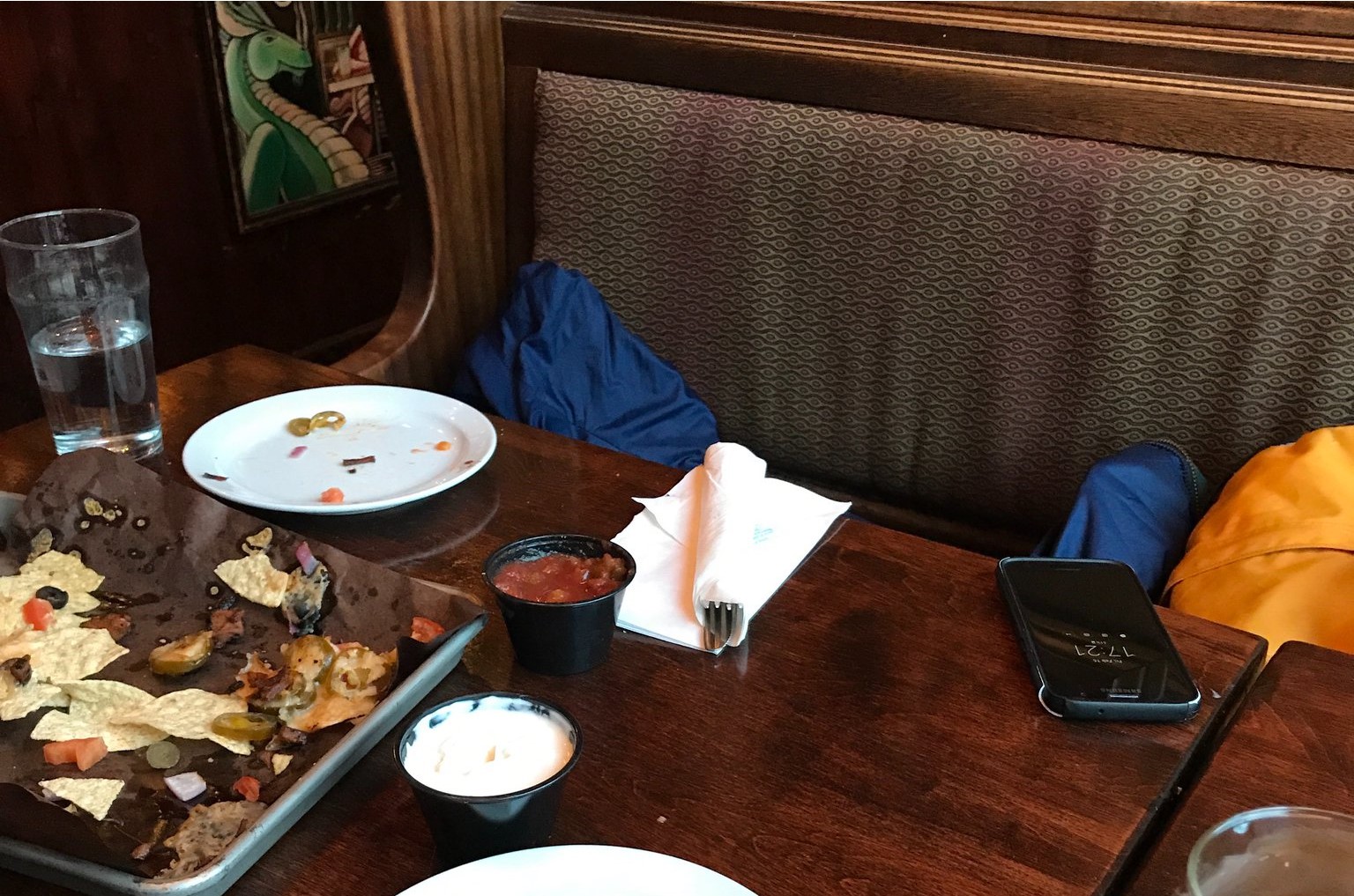 Jordan was in visiting his old home town. We had a very pleasant two hours in my favourite spot, a block away from my work. I started with an excellent thick smoked oatmeal stout from Black Oak. But it wasn't the beer or even that we were in the Kingston brew pub, which I have written about before – including this post from 2005 – but we had snagged one particular booth by the front windows. Another view of the seat, in a bit neater condition, is one of the photos that scroll up above in the header area. I first sat in the spot twenty-five years ago when, before children, my wife and I would take weekend holidays in this small eastern Ontario city where we later ended up settling. The brew pub was our home base out from which we would explore the old town or, staying in warm and dry, watch a blizzard whip by on a Saturday afternoon.
Jordan had his own memories. He thought it might be where, underage, he was first served a beer.  He effectively had a tab a few years later when he was a regular after the late shift. The space still surprised him. We discussed what was behind it and chatted a bit with the manager, too. The way the selection of Ontario craft beer was not actually strongly highlighted was a key feature we landed on. No more mentioned than the fine whisky selection or the house smoked BBQ. The pub itself was the main attraction. There is nothing particularly self-conscious… dare I say "curated"… about the place. Good brisket on the nachos, a great selection of good beer both reflecting both craft and micro sensibilities, Dwight Yoakam on the speakers surrounded by decades worth of British and US breweriana coating every flat surface displaying thirty years of beer culture, gathered extemporaneously there like a jar of beach glass.
After his drive arrived and Jordan headed out, I sat there by myself for a few minutes, afternoon giving way to evening, until a large group came in. I motioned them to fill the booth as I moved to sit on a chair to the side. We had a couple of minutes as they shared their own thoughts about the place. Then my own ride was there outside the big windows because it was suppertime.