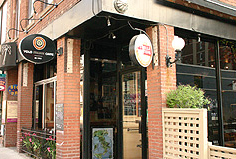 The other day, when I did rock, we headed up Yonge Street in Toronto to finish the evening at Volo, a much discussed beer bar amongst the Bar Towelling set. With very good reason as well. While I wasn't able to take my camera and get some shots, I can tell you that the place seats about 40, is something of a cheery jumble of mismatched antiques, plants and beer bottles and has the feel of rec room meeting a cafe. Certain Bear Republic quarts noted. Like a walk-in stash with knowledgable staff. Very nice and, frankly, a brave effort given the legal loops they must have to go through to amass the well chosen and properly handled collection. As a result, the prices are honest and sometimes even bracing but just don't go every night and you will be OK, OK? Here are some directional hints for Volo.
We were not there for long but I got to try a few firsts. I had a bottle of the barley wine Fred by Hair of the Dog and my brother's split a large La Chouffe. I also tried Church-Key Brewing's new biere de garde on tap. I really wish I had had my camera as I remember looking at the chalk board thinking "they don't make a BdG!?!" and here I am thinking that I am going to find a reference on the bar or brewer's web site as to its existence and I find nothing. [Later: Bar Towel News Services has more on this new BdG. I think this is the style of the next two years.]
The Fred was a big rich ale, green hop and with chocolate notes in the malt supported by creamy yeast. In a way, a little light for a ten percent ale as it was neither hot or spicy. The La Chouffe was pear juicey cream rich and round with a nice burlappy hop. I also wrote parsley potato. I will leave you to judge the state of my note taking. La Chouffe is at the SAQ, Quebec's government store, so if I have to do a trip east this summer, I may survive on a case picked up in Trois Riviere. The Church-Key was slightly uncious with a honest but sort of quiet spud peel biere de garde mouth feel. But it was also pale malt grainy making me think it was sort of like their stock ale with a healthy nod towards biere de garde. Milky yeast and soft water, low hopping and medium to low carbonation. If the brew actually exists, that is.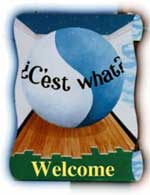 Earlier in the day, pre-rocking, supper was a buffalo burger at C'est What, a great tap restaurant which I have written about before. My first beer was a Denison Weisse, a hefe of lemon cream cut by a swath of weedy seet hop greens. Lively and prickley carbonation and a really nice grainy wheat texture. I also had a Black Oak Nut Brown, a good honest pint of dusty cocoa with twig-green hop, a milky yeast and pale grain roughness. C'est What is a great comfy basement bar with that most excellent of seating technology, the sofa.
So all in all – with a stop at the Queen's Quay LCBO with its well-stocked and staffed beer corner as well as a decent beer book find – it was a very successful beer related run into the Big Smoke.