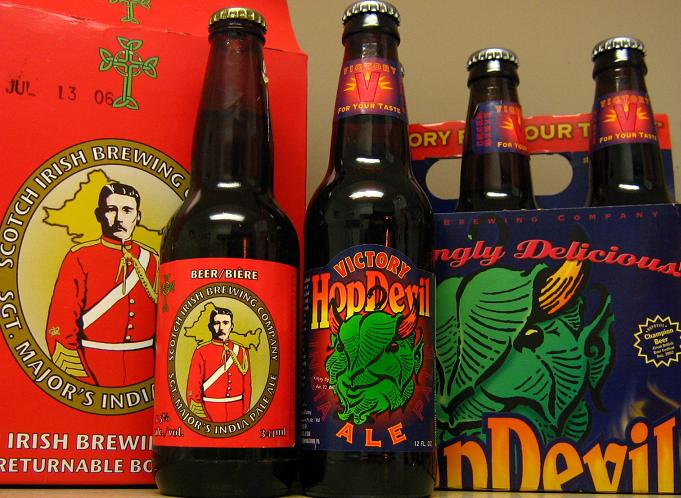 I've wanted to try this comparison for a while. Sgt. Major's IPA from Fitzroy Harbour in the Ottawa Valley is a unique beer in at least the eastern side Canada in that it attempts to take on the US style on its own chewy hoppy terms. Hop Devil IPA from Victory in Pennsylvania is one of the classic northeast US IPAs – balanced but big.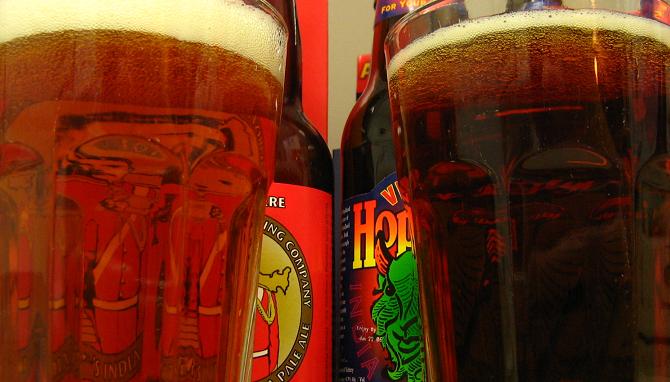 The two beers pour deep amber under fine off-white heads but the Hop Devil is darker while the head of the Sgt. Major holds its fine head with almost Guinness-like will power. In the mouth, the Canadian is hoppier by a long shot but the American presents raisin notes and is richer but by only a notch. Both rely on American hop strains to provide an unsweetened grapefruit twang thang. Both have a good grainy profile from a honest quality malt bill and both use fairly softish water compared to the amount of bittering – no sulfate cheating here. The Hop Devil uses a creamier yeast strain. The overall quality of the beers is extremely similar which is a real tribute to the small Ontario brewer.
I like them both and will have some confidence in picking up a six of Sgt. Major next time I am cranking in my mind about the lack of variety at the local beer suppliers.