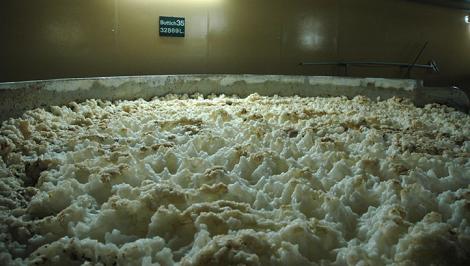 Not quite this much yeast…
I was going to call this another project but I think that might be a wee bit too much so "My Experimental Brewery" (or MEB) will have to do. I have home brewed in two periods of my life. In 1987 I visited the Pitfield Beer Shop that Knut visited in 2005 but which recently shut. I picked up some books, a few collapsible kegs and backpacked them back to Halifax, Nova Scotia for a stretch of kit brewing with my recently graduated pals. From 2000 to about 2003 I part-mashed about 100 gallons a year, mixing extract and a small mash. I was pretty good and used the best ingredients I could find. I also got a bit heavy…heavier…which has put me off brewing for a while.
But recent comments here plus thinking more about beer and culture plus a colleague with an interest in brewing got me thinking – including thinking about about all that excellent yeast I have been pouring down the drain as I rinse out the bottles for the recycling bin. I've probably tossed back or poured down the best part of a half litre of saison yeast in the last year and another of top barley wine leavings. That can all be farmed, reused and renewed. And half the magic is in that yeast as we all know. So I put together the makings of a semi-demi-pico brewery and plan to make tiny ten litre batches of all-grain brews. Maybe a pumpkin porter with Fantôme yeast from Belgium. Maybe an imperial Scots heavy with the mixed yeasts of dubbels and Traquair to help give comfort to a few of we Scots who never got to have that empire. Maybe I will pull down that book by Tayleur that I picked up in 1987 and make something out of what I grow this summer in the garden.
So what would you make if you could make just five six-packs at a time?