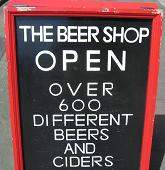 I was in London last week, which is pleasant during all seasons, but this has been the hottest July for 30 years, so there is an extra need to refill the body's liquid reserves.
I first visited the splendid Pitfield Beer Shop, which sells both a number of bottle conditioned ales from its own micro and a broad selection of beers and ales from Britain and the rest of the world. Friendly staff that know their beers as well, so it is definitely woth seeking out, even if it is a bit out of the way for most visitors to London. I bought as many bottles I could reasonably carry, and walked back through the Clerkenwell area, where I decided to try the new golden ales on offer from Young's and Fuller's, the two independent London brewers which both own a number of pubs serving their beers.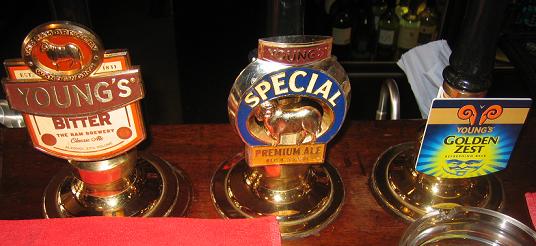 Next stop was the Sekforde Arms, a friendly Young's local on a side street. Young's have Golden Zest as their seasonal ale this Summer. It is dark gold in color, but while it looks like a lager, it is certainly an ale. Light and refreshing, but not a groundbreaking brew. Served at the proper cellar temperature – what critics of British beer call "warm beer", this could actually have been served colder on a hot day like this. It was nice to try the Golden Zest, but the next time I will return to their Special. The brewery blurb for this 100% malt brew: Maris Otter pale malt, lager malt, English Fuggle and Golding hops come together to produce a wonderfully light and refreshing golden beer. A few minutes walk to the Fuller's pub City Retreat, a great place on a hot afternoon (or a cold Winter evening, as I've been there before). The new ale from Fuller's is Discovery, and this was something else. An ale with a depth of flavour. It is fruity, with hints of apple and peach. A splendid summer beer, but I am not sure where it will fit in the market, as it is neither a lager nor a typical ale. According the Fuller's, this is to be added to their year-round range of ales, along with London Pride and ESB. This was served chilled, and I found that suited the beer well. According to Fuller's, this is "brewed using a unique blend of malted barley and wheat for a delicious malty taste bursting with rich, biscuity flavours. Liberty hops are added for a distinctive zesty character and fruity bite, whilst Saaz hops add a gentle bitter taste for a clean, refreshing finish."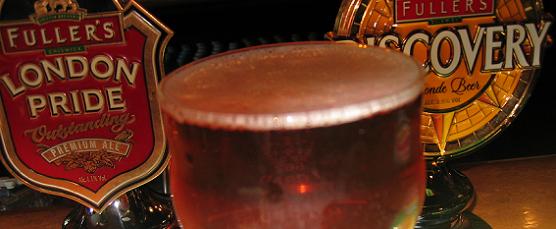 It seems like they have both aimed for the same type of beer, with "zesty" being a common denominator. It is worth mentioning that Young's launced a beer a few years ago, the Triple A, which also aims at the drinkers who dont't want the full flavour of their bitters. This is not a real ale, and it is served chilled, rather like a Kilkenny, but with a bit more taste. Purists frown on this, of course.
If you stay in the British Museum area of London, these two pubs are just a few minutes away by bus or taxi – if it's not too hot they are within walking distance. They are much to be preferred to the more busy and touristy pubs in the Covent Garden/Soho area, being frequented by people who live or work in the area. You can look up their addresses on http://www.youngs.co.uk and http://www.fullers.co.uk, where there is plenty of information on their beer range, too. And, if you have more time on your hand, both breweries have tours of their premises and they have brewery taps and souvenir shops. Young's even have published books on the history of the brewery and their pubs, see a review on my self-named Knut Albert's Beer Blog.