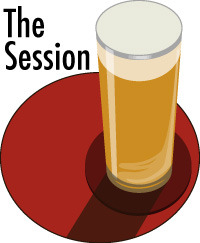 I want to say one thing. Where the heck did the days of whatchure fayvrit bock go? All these questions like who's your beer friend, what's your best beer place? I wish we'd get back to beer and a lot less about me…or you if you are another beer blogger. But at least this one is about me and beer.
There. Done. Off chest.
So, I was trying to thing of auspicious moments on my early years with good beer. I am a lucky guy who, at 45, started in my university years interest in beer in early 80's Halifax, a seaport town, that was interested in beer and drink and donairs and whether Keith's or Moosehead was better house draught. A place where one could say "it's a drinker" on a lovely day and know by midnight you;d be amongst 50 pals in the taverns, pubs and beverage rooms of our fair city's waterfront. I've written about the 1980s Halifax pub scene then in an earlier edition of The Session, but here are some notes:
In frosh week of 1982, my second year of undergrad, I decided unfortunately to drink a large amount of MacEwans Scotch Ale much to my later distress. Twice that night I noticed that it went down with the consistency of HP sauce and was quite different from the local Nova Scotian lagale I had been drinking.
The next year, 1983, the college bar had a "beers of world" weekend and we all drank Dortmunder Union which came in in very thin glassed bottles with light grey labels. Not too long after, Maxwell's Plum, an imports bar opened in Halifax.
Soon after that on Christmas Eve 1985, I ran into my high school pal, Pete, at his new gig bartending at The Thirsty Duck put on a new keg of the recent novelty arrival Guinness. We went through a fair bit of that at that pub, too.
In 1986, the Halifax scene takes another jump with the Granite Brewery (now also of Toronto) at the old Gingers location on Lower Barrington, started up its experimental brewing with a variety of levels of success. About that time, the New Brunswick micro Hans Haus or Hanshaus started in Moncton and, according to Brewed in Canada, lasted five years. They brewed a lighter lager but also a beer that I recall as being like a marzen, darker and flavourful.
In 1985 I am in Holland working and traveling in France and the UK will college pals and, again at the end of 1986, I am to be found backpacking in the UK, in the pubs trying what's ever going. The latter time I visit the Pitfield Beer Shop which Knut visited in 2005 and buy two homebrewing books, one by Dave Line and the other by Tayleur as well as some basic equipment I expect I can't get back in Canada like polypins. I still use some of that stuff as well as those authors' more basic brewing techniques.
But I think the real break came when I got the November 1987 issue of The Atlantic and read the article "A Glass of Handmade" – an article that gave me a sense there was something happening in North American outside of Halifax, that was maybe like the UK, that was maybe something to look forward to. I wrote about that back here and even sorted a copy of the article for posterity in my bloggy archives. Go read it again – it's a great snapshot of where craft brewing was in 21 years ago and reminds me of what I was thinking about when I was first learning about what beer could be.