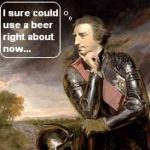 I am a bad home brewer. I have had supplies in for months to do a couple of all-grain batches but still they stiff wrapped and wrapped again in plastic in a cool, dark place. I did buy another mash pot yesterday but, given my failure to avoid napping and reading this afternoon, no beer again was made. Yet, beer knowledge expanded as I was reading The French and Indian War, a pretty good read by Walter R. Borneman, and came across this recipe for spruce beer from 1759, taken from an order by General Jeffery Amherst, to be supplied to the British troops moving to take the fort at Crown Point from the French:
Take 7 Pounds of good spruce and boil it well till the bark peels off, then take the spruce out and put three Gallons of Molasses to the Liquor and and boil it again, scum it well as it boils, then take it out the kettle and put it into a cooler, boil the remained of the water sufficient for a Barrel of thirty Gallons, if the kettle is not large enough to boil it together, when milk warm in the Cooler put a pint of Yest into it and mix well. Then put it into a Barrel and let it work for two or three days, keep filling it up as it works out. When done working, bung it up with a Tent Peg in the Barrel to give it vent every now and then. It may be used in up to two or three days after. If wanted to be bottled it should stand a fortnight in the Cask. It will keep a great while.
Yum. You see the key phrase, don't you: "till the bark peels off". The British army was using whole branches, not just needles and boughs. Again I say – yum. Google gives us that recipe, too, but give up has more on the brew – in the form of a digitized copy of the 1759 orderly book from Amherst's expedition north up Lake Champlain, setting out how the army brewed:
Spruce Beer will be Brewed for the Health and Conveniency of the Troops, which will be ƒerved at prime Coƒt ; 5 Quarts of Mollaƒƒes will be put into every Barrel of Spruce Beer ; each Gallon coƒt nearly 3 Coppers. The Quarter-maƒters of the Regiments, Regulars and Provincials, are to give Notice to Lieut. Colo. Robiƒon of the Quantity each Corps are deƒirous to receive, for which they muƒt give Receipts and pay the Money before the Regiments marches. Each Regiment to ƒend a Man acquainted with Brewing, or that is beƒt capable of aƒƒifting the Brewers, to the Brewery to-morrow Morning at 6 o'clock, at the Rivulet on the Left of Montgomerys. Thoƒe Men are to Remain, and are to be paid at the Rate of 1 8 Pence Currency per Day. One Serjt. of the Regulars and one of the Provencials to ƒuper-intend the Brewery, who will be paid is 6d per Day. Spruce Beer will be deliverd to the Regiments on Thursday Evening or Friday morning.
Sweet use of the long "s" HTML, eh what? Let me know if you can't see them and I will report back to The 1700s Typeface Open Source Beer Recipe Project.
More? OK, Borneman points that "rum and other spirituous liquors" were prohibited under his command but that spruce beer provided some protection against scurvy among other benefits…aka "conveniency". Here is a 5 gallon clone of the beer for the inconvenienced homebrewer. But not me. I have those other beers I have yet to make lined up first.