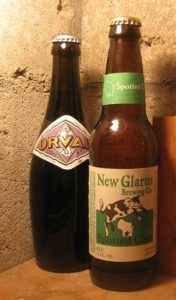 This is the second in my triptych of posts about blending New Glarus Spotted Cow with Belgian ales of note. In the first its blending partner was Duval and I came to like the 66.7% Spotted Cow 33.3% Duval ratio the best. Tonight? Who knows?
50% Spotted Cow – 50% Orval: On the nose, this brew is eerily like Oro De Calabaza from Jolly Pumpkin: musty brett, sweet malt and a touch of light plummy fruit. In the mouth, not so much with the ODC but not bad. The corniness of the Spotted Cow does not stand out so much as you might have thought as brett masks it well. But the sweetness is there and is well cut by the must and antiqued hops. Well worth doing to stretch out the quality.
33.3% Spotted Cow – 66.7% Orval: No. Not enough corn to assert itself above the brett making just for a weirdly diluted Orval with some off flavours. Don't try this at home.
66.7% Spotted Cow – 33.3% Orval: Here the sweetness has more corniness standing out and the ODC effect is gone. Yet, it is still a brew with brett. The Spotted Cow stands out as a quality brew with none of the off flavours of the Orval heavy version.
Results? I am really surprised by the 50%-50% blend as it was what I had in mind but was way better than I could have imagined. It bodes very well for mixing Orval with other slightly sweetish beer as sort of a brett concentrate. Is that disrespect? No more than calling this blend a Cornval. Beer blendings that say bugger off to the barley bullies.