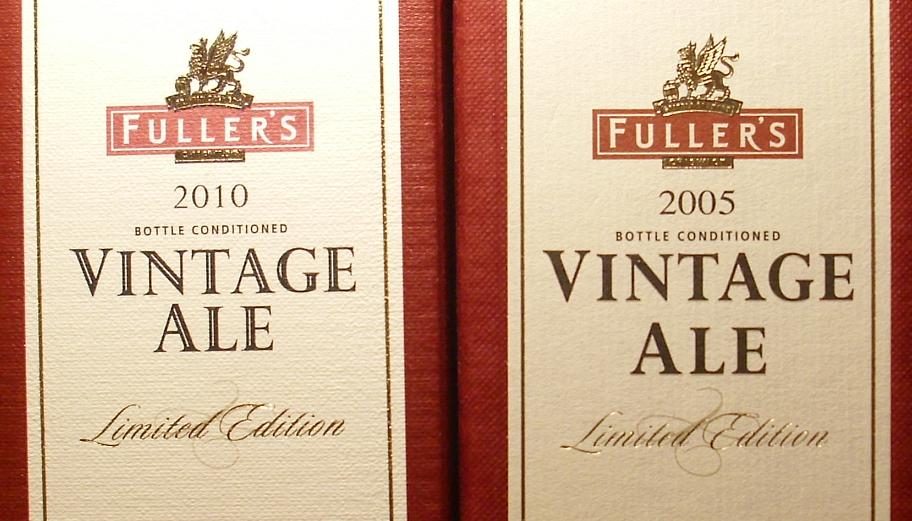 I have been wondering what to do with these single boxes of Fuller's Vintage Ale I stick away every year. Seems a shame to blow them all in one binge even if shared with pals and plenty of notes. Not much to learn there. I needed a plan, a system. So, with that in mind, I figured that I would open the current version as well as the version from five years ago. That sounds like a plan. And it is a recurring theme. Just what the modern blogger needs: plans and themes. The boxes are note worthy in themselves if only to note that someone took the time to make the font on the box a little more elegant between 2005 and now – though it does not carry over to the card inside. And interesting to note that the 2005 is #10599 while this year's model is #026673, expectant of its siblings growing into six figures. But let's not get bogged down in packaging. Unless you really want to. No? Fine.
The 2005 opens with a fizt and immediately gives off a nutty sherry aroma…rummy even. Plenty of frothy oranged off-white head. In the mouth, I first get marmalade and sticky bun. There is a very nice light astringency around the edge. Nutty with almond a bit like Hungarian Tokay. Very rich with a pleasant candied quality but clearly working its way yeastily beastily through itself. The malt has pear juiciness in there, too. Before the pear shows up, in the first wash there is a hot wave that is almost tobacco. As it opens the tobacco and pear morph into a touch of licorice. In the finish there are complex twiggy things going on, something like hedge.
By comparison, the 2010 is simpler, heftier and sweetly cloying, the sugars not having broken down for half a decade of thermostatic abuse in my basement stash. Even the head is more of a uniform fine cream rather than the more bubbly open froth of its elder. The bitterness is more generalized and slightly rougher. The back of the throat heat a notch more pronounced. No sense of the pear in the malt at all but maybe bread crustiness instead. Good and pleasant but clearly a bit young by comparison like a cheese that has yet to develop its bite. Frosh.

Having said all that, I still have 80% of each bottle left. I feel like I should do some tests upon the fluid with, say, litmus strips… or maybe observe the reaction of small penned animals asked to bed down in the boxes laid down amongst the smelly wood shavings. But what can a data like that tell you? Look at the photo above. Science is not all its cracked up to be. Both beers are very moreish, rich and worth opening at this time of year. Each could stand up to old cheddar or stilton very nicely at the end of a big holiday meal. I expect I will go buy more 2010 and hide it from myself. I will. I'll be a year away from the beginning of paying university bills by the time it's ready. Better buy lots. They'll probably be drinking them by then, too.
While we are thinking about it, it does make you think whether any nation on this planet can express the hidden capacities of good rich malt like the English can.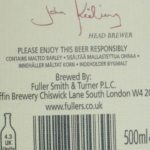 Obviousness Update: Monsieur Noix of Ireland calls me out over the geography but I am mere puppet in this respect, parroting the brewery itself.
Click on the image to the right as to the evidence at hand.