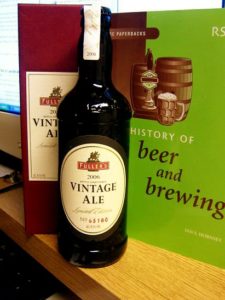 This one is being peddled at the LCBO right now for $6.50 for 500 ml. Nice packaging. This is bottle #65180. I have another 2006 hidden away with a 2005. Why? Because I am a nerd.
Tan frothy head over caramel ale. On the nose, just malt sweetness. Rich. Plenty of grain texture all in all and an exceptionally well hidden 8.5% with sweet malt and twiggy and slightly astringent hops on the wash around the chops. There must be more – start again. The nose is more than just sweet. There is a hay loft sort of clean organic smell. Tweedy. What about the taste? Fruit? Sultana and apple perhaps. Maybe one of those green fig varieties as well. Some smokiness as well but gentle. Black tea at the finish with creme caramel.
Some day I will do a side by side. Meantime, pick a few of these up even at this price. Thinking ale. BAers say yes.