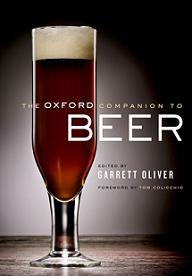 You may recall that I had a first look at The Oxford Companion to Beer a few weeks ago. Comments have flown here and elsewhere. I am convinced that the book will be a great focal point for discussion for years. I am also convinced that by definition is it not definitive. Why? Well, it is a collection of very short essays, that's why. Which also means there should be lively discussion building upon each essay as well as the cross-referencing between them.
So, I have created a wiki called "OCBeerCommentary" in which I hope to create a commentary upon, a concordance of this great book. It is a group project hopefully but the rules are fairly strict or at least focused:
The purpose of this wiki is to collectively make comments, add annotation, identify errata and suggest further sources to the text of The Oxford Companion to Beer. Members are asked to avoid comment about the authors, the structure of the text or other extraneous matters. This wiki is a not for profit project that reviews the text pursuant under the concept of "fair dealing for the purpose of criticism or review" under Canadian copyright law.
The wiki is available to be read publicly but is only open for participation by approved members. There is not much in there yet so bear with us. Let me know in the comments if you are interested in adding errata, elaborations and commentary. Or email me at beerblog@gmail.com. There should be links to your existing blog posts, an interview your have come across or whatever else helps expand understanding of this work. I expect this to be a slow project but one that aggregates commentary to make it more readily accessible. Who know? Some comments might interest the editors enough for inclusion in the inevitable second edition.