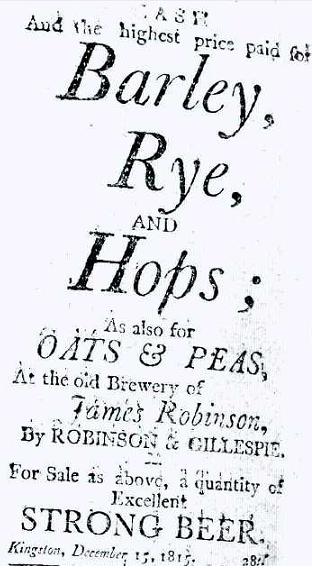 The ad is from page 4 of the Kingston Gazette, 6 January 1816. You can see at the bottom that it was placed on 15 December 1815. So many questions. What were Messrs Robinson and Gillespie up to? Why is rye placed between barley and hops in the large font while oats sit down there with the peas? Also, is "strong beer" something separate, something identifiable to the Kingstonian a year after the war with America? You will recall that a few months later in April, Albany strong beer is for sale. It also comes just a month after Richard Smith's notice for plain "beer" – so was "strong beer" something they had the taste for still, almost 40 years after having to flee from their central NY homes at the beginning of the American Revolution? And why is it not "ale" when described in the Kingston papers?
I just finished The Lion, the Eagle and Upper Canada by Jane Errington, a historian over at Royal Military College – they of the old school base ball. The book is well reviewed here but, short form, it's an interesting view of early Upper Canada (1790s to 1820s) based in large part by review of early newspapers. In it, Errington suggests something of a window between the end of the War of 1812 in 1815 and, a few years later, a clampdown in trade and other contacts with the US towards the end of the decade. But even with her level of detail about the community, trade and industry, there is not much about beer itself. Meaning I am left unsure if beer was being traded within months of the end of a war, perhaps as a stop gap until local product restarted… if it was interrupted by the war… which is another question.
So, I was very happy to read in the comments that Steve Gates has published his history of brewing in the city and in the region. I couldn't get out of the door to go get a copy but will tomorrow. Hopefully it will shed some light on what Robinson and Gillespie were up to.