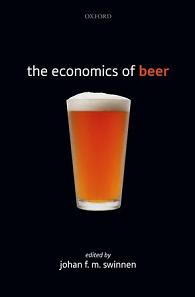 I bought this because Simon told me to. Simon said.
This book is a series of essays related to the 2009 conference of The Beeronomics Society. It says on its back cover that it "is the first economic analysis of the beer market and brewing industry" but that is just silly puffery. There have been loads of economic analysis of the beer market and brewing industry. Frankly we have been weighed down by them. Don't make me review Tremblay and Trembaly again. Do you remember those graphs and tables?
This book is a lot like one of my favorite sets of essays, the papers from the "Cooperstown Symposium on Baseball and American Culture." It is also a lot like Beer and Philosophy, a set of essays which included one from me on the underlying philosophy of beer regulation in Canada. What they all have in common is that they are a collection of papers tackling aspects of a general topic from various points of view. In the TEOB you will find 18 papers from the 2009 conference organized under the four topics of history, consumption, industrial organization and the new beer markets. With any luck, as with the annual baseball conference but unlike Beer and Philosophy, the followup second conference of The Beeronomics Society will issue another volume of essays reflective of the topics covered in September 2011.
So is it worth getting? For a book nerd like me, sure. I was a little uneasy with the superficiality of the first essay "A Brief Economic History of Beer" given it covered so much of time and culture so quickly. However, when I saw that there was an essay by Richard Unger, everyone's favorite beery medievalist and Renaissance man, I was won over. And the essay "Recent Economic Developments in the Import and Craft Segments of the US Brewing Industry" by the manical graph-huggers¹ T+T may serve as something of an update of their 2005 book. Best of all, each submission comes with its own bibliography alerting folk like me to other papers and texts that might be out there just waiting to be added to the book shelf.
Published, too, by Oxford University Press, this book is another sign that we fans of beer and brewing live in lucky times. If I have more intelligent comment after reading a bit more, I will add it in the comments. But at this point this, too, looks like a good buy for the serious beer nerd.
¹ There are seven graphs and four table in just 18 pages!!!