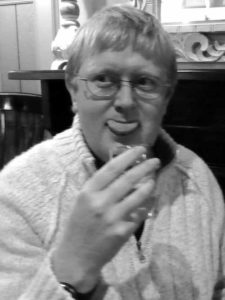 I have been on the road all day so am just seeing now that one of my favorite beer bloggers, Simon "Reluctant Scooper" Johnson of England, has passed away far too young. That's my favorite of the portraits of himself he posted over the years. I never met Simon but we talked now and then through emails, tweets and blog comments. I completely enjoyed his writing. His optimism, bimbles and – perhaps more than anything else – his sheer interest and joy in so many things. And his humour. Here's his bio:
A bloke who likes beer. What, you want to know more? OK. Ex face-painting clown, lives in the English Midlands, works with data, loves pork pie, hates couscous. Married with one barbecue. Knows some brewers and publicans. And politicians. And, ahem, "characters". Has written for papery stuff like Beer (the CAMRA quarterly magazine), Gin & It (UK drinks journal) and Beeradvocate (US beer magazine) but is still holding out to be the pub reviewer for Country Gentleman's Pig Fertilizer Gazette.
Not sure many others could have pulled off the craft rope post or levened it with a bit of meaning as he did. And he thought to give thanks, too. He loved Orval. He helped with the grunt work of the OCB wiki. A friend has posted photos of how he spent last Saturday with Simon, goofing around. His sense of infectious fun came through in everything he wrote. You know, were this rotten news today to turn out to be a massive wind up of us all on his part I would think it a classic. But it isn't. It's just rotten sad news.
His blog can be found here and responses to the sad news can be shared on Twitter under the hashtag #RIPscoop. My thoughts are with his family and friends.