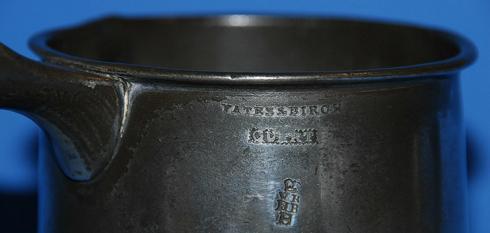 So, you recall that I bought that rather swell Wedgewood 1940s sage green tankard? I seem to have caught a bit of a fever. And there is only one cure for that… a tankard you can play like a cowbell. For the record, here is the information which came with the online listing:
This quart mug which is of quart capacity, dates to around 1840, and is by the well known Birmingham makers Yates & Birch, whose mark is to the right hand side of the handle above "QUART". There are three verification marks below the rim, two of which are a crowned VR over HB above H (Haslingden in Lancashire – see Marks and Marking of Weights and Measures of the British Isles – Ricketts & Douglas). ). There are two wrigglework cartouches to the front of the body which read "P. Pollard, Talbot Hotel" and "Old Talbot 1626". The inscriptions suggest the mug was originally used in the Talbot Hotel, Oundle in Northamptonshire which was rebuilt in 1626, using stone and a staircase from the ruins of nearby Fotheringhay castle. Mary Queen of Scots was executed at the castle in 1587 which led to it being subsequently demolished by Mary Queen of Scots' son and grandson. How the mug acquired verification marks for Haslingden in Lancashire remains a mystery. The mug is in good condition with general wear commensurate with age (see images) but no splits, holes or repairs, and would make a great display piece.
A mystery. Neato. Came in the mail today. Picked up at eBay, it ended up being $75 bucks all in for door to door delivery across the ocean. Best of all, it is a quart with plenty of interesting markings indicating that it was from this still functioning hotel in Northamptonshire from perhaps the 1840s. Definitely marked for the Victorian era. But it is old pewter so I may have to do a bit more research before I make it my primary drinking tankard. Never cared much for the look around the gills of any Victorians I have run across. But it does pose the prospect that a few more could be acquired with a good chance of having a thinking persons quart tankard drinking association. Extra points for showing up with one like this.