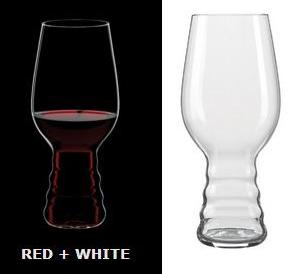 To the left, the Riedel O-Riedel Series Red+White glass: seven inches high, holds seventeen and one quarter US ounces of fluid. To the right, the Spiegelau IPA glass, seven and one third inches high and holds nineteen US ounces of fluid. Riedel and Spiegelau are closely related companies or perhaps even two brands of the same international firm. In the rush to question, mock or ignore the alleged new Dogfish Head and Sierra Nevada thingie, only one comment maker at Time magazine website's story on the glass has bothered to suggest the relative lack of innovation which could be at play. Amazon reviews of the object associated with wine go back a few years. So, when a source like Fast Company magazine states:
In April, the Bavarian glassmaker Spiegelau will release the world's first glass designed specifically for India Pale Ales, whose hops-heavy brewing process gives them an especially pungent, fruity aroma. Designed in collaboration with Dogfish Head and Sierra Nevada–two craft brewers known for their IPAs–the unusual glass features wave-like ridges toward the bottom that help bring out the beer's flavor…
…where do the uses of the words "designed" or "specifically" or "in collaboration" or "unusual" come from? Still, it sure broadens the utility, no? Makes it more of a multi-purpose glass. Perhaps call it the "Red and white as well as bunch of shades of brown" glass… perhaps?