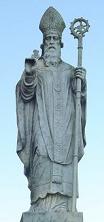 Have a thought for Saint Patrick, the actual guy. Taken as a teen age slave from his native Wales to Ireland, familiar with all the details of Druidism from whose bondage he was destined to liberate the Irish race, able to paralyze those who would deter him from his mission and all we can do is get pounded in his name. Isn't the 17th of March now a bit of a sad legacy given, at least in certain places, the celebrations reach a pitch which would make a Druid blush?
Craft beer fans seem to object to the St. Patrick's Day as a general thing. Andy Crouch is turned off by the exploitation by big American breweries, the push by Guinness for a holiday is seen for the commercial exploitation that it is and slightly excruciating efforts are made to find another angle on green beer.
But not being Irish, not being American, no longer being a regular Guinness drinker and not being a person to go out and get sloshed in bars like some cheese-eating frat boy…what's the harm? Isn't the cheeriness associated with the day and the doings somewhat compelling? Aren't there peoples from Patagonia to the Republic of Palau who ache with jealousy at the good PR the Irish get out of it? And, given all the free press about beer this time of year – if we are like Patrick to be evangelists ourselves – isn't this a great opportunity for a teaching moment? Isn't this, frankly, the sort of beer holiday that craft brewers would dream of making up if it didn't already exist?
Saint Patrick can be associated with bringing the gift of civilization, of the pluck to take on an impossible task, of the enduring drive to achieve passion's dream. These all seem great values you can associate with hard working craft brewers. Take back and take on the day, I say.