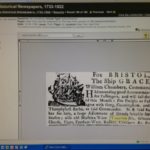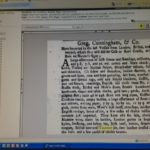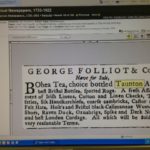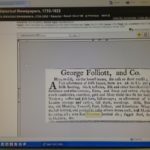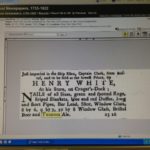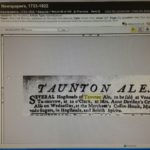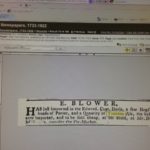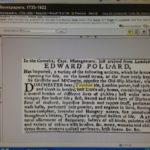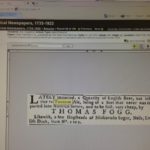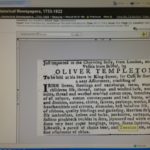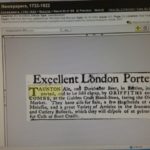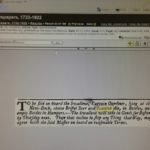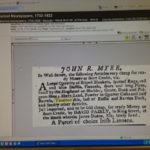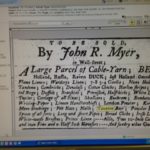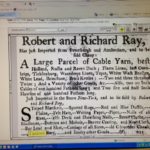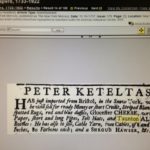 Three years ago, I asked what the heck Taunton ale was. I found a few more things that I noted in the comments but, still, was pretty much left with the idea it was a bit of a fringe thing, a bit of a one off. After all, India Pale Ale gets all the attention because it deserves its adoration and the long haul beer of the Georgian era, right? But there I was in the New York State Library's reference section this morning. Looking for ads for brewers by last name when I started to play around with other odd words and – whammo – 17 ads for Taunton Ale being shipped into New York harbour in the 1750s and 1760s. It was a commonly traded good. One note. Up at the top is the metadata on the image. These are screen shots.
A few preliminary thoughts of mine for your consideration, correction and elaboration. First, I had understood it was a bottled beer as part of the trade in Bristol glass. See, someone had figured out that shipping a full bottle was shipping two products – the bottle as well as its content. Second, it appears to be a product of quality. See the 1764 advert from Thomas Fogg? He's importing something he doesn't name but it is as good as Taunton. Sure it was. Sure it was. Third, what the heck is Dorchester beer? Fourth, Craig and I are working on the idea of what 18th century New York state… err… province beer was like and we are working on the idea of a few overlapping things or production techniques: weaker tavern brew, stronger northern Dutch-style wheat ale, NYC-made English/British-style barley ale and with this information there appears to be a fourth class. Wide – spread premium imports.
Four ideas is enough for now. Lots of data. What else do you see?