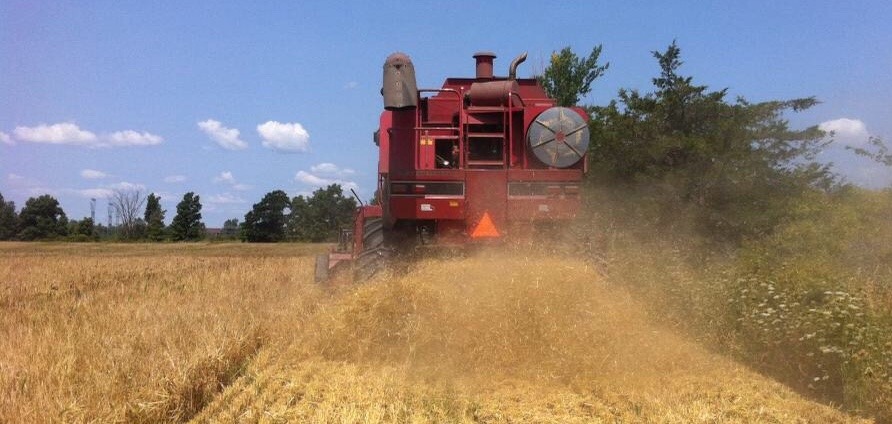 I visited a brewery today. Barns filled with brewing equipment. No one was there. Walked into the keg storage building and saw kegs. Tried a door with a padlock on it. Padlock was open as it turned out. Even had the key still in it. Went in and looked at all the fermenters. Shouted hello a few times just in case someone was up a ladder. It was quiet. Good looking stainless steel. Outside a dog was looking at me from across the road. A big dog. Didn't bark but, still, I thought I better get out of there.
You may have guessed this was MacKinnon Brothers Brewing to my nearby west, on the north side of Bath Ontario. Well, I suppose you should be expected to read the post titles. Anyway, I've taken today off work to make a four day weekend and spent mid-day roaming in the next township. Had a face full of fresh Wilton cheese curds before heading over land with no real idea of how to get to the brewery. Then we remembered the iPhone thingie. Turning onto the country road, we passed the family farm. The MacKinnon lads come from a seed farm. Above is a picture I nicked from their Twitter feed showing them harvesting the malting barley crop. Know any other breweries with their own combine harvester? Given they are a seed grain operation, I expect that they will be making some special ales over the next few years. But I hope it still reflects the
relaxed country life approach seen in the security system, too.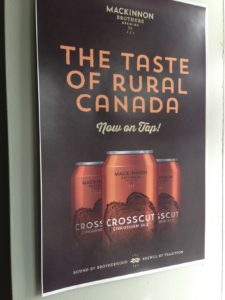 They already do. As part of the long weekend, we've been eating out a bit. Friday night, I went to Harper's, a great local burger place where the MacKinnon's English Pale Ale was on tap. Had a couple. Tastes like a grain field on a hot August afternoon. Has that husk of the barley roughness that I love. But also honey notes and maybe some weedy jag. Had a portabello mushroom burger with a slab of Seed to Sausage bacon on it. The next night, we were at Bella Bistro. Our anniversary dinner out. Up on the chalkboard it said MacKinnon Wild Peppermint Stout. I hadn't planned this sort of thing happening, getting all beer and food… but I ordered one. The herbal edge made me thing that the beet and arugula salad was the right call. Stout and salad. The best pairing advice is to avoid the pairing advice. Pumpkin seeds and goat cheese made it work. Was the mint from the farm fields? Maybe 5,000 other beers would have been just as good. Likely the case. But the stout was mighty fine with dinner.
After that dog looked at me at lunchtime today, we thought that the feed of curd was not quite enough. We headed to Bath itself. At the Loyalist Grill, we split a salad and a chick wrap. More salad. Must be making up for a summer's worth of hot dogs. The beer today was MacKinnon's Crosscut Canadian Ale, an amber beer with a bit more sweetness than the EPA but, still, that husky jag of grain that tells you the beer was brewed with real stuff. Like the rest of the food at the Grill. I have great hopes for this brewery. Just the idea that it is an additional operation to the family's successful grain seed business – not to mention the family farm was established in 1784 – gives you a sense that they have the time and resources to get it right. Rural brewing reflecting local reality right in the beer. Stan would be proud.