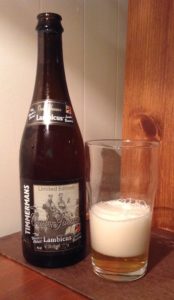 Session beer. 5.5% and sufficiently sour that a personal sized 750 ml gives at least two hours – or four laundry loads – worth of sips. It pours a slightly clouded golden straw. Plenty of must and funky tang when the nose is rammed into the nonic. Still, a bit of fruit in there. Maybe lingonberry. Just a hint. Much more going on in the swally. Sour, yes, certainly sour with a light summer apple, lemon, creamy wheat, nutmeg heart. "Rotten lemon, more like it!" says the lad after he sticks a finger in the glass. Which pretty much sums it up.
What is my relationship to this sort of brutal beer after all these years of study? I certainly have an appetite for any I get a chance to lay my hands on but they come along so few and far between for Ontarians given out mediocre retail options that I wonder if the scarcity makes them more interesting. I bought this in Albany a few months ago and do like to have a few bottles of panic gueuze… but wonder if I would be quite so excited if I could buy one of these any old day down the street? Or should I just be happy that one of these every three or four months is just what keeps me happy. You really can't measure the relative value of the exotic.
BAers give it solid respect.